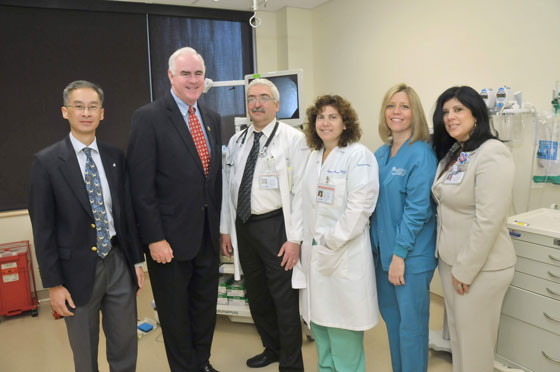 U.S. Rep. Patrick Meehan, R-7, visited the Crozer Endoscopy
Center at Brinton Lake on March 26. Crozer-Keystone gastroenterologists, nurses
and other staff members gave Meehan a tour of the new, state-of-the-art
facility and discussed the latest diagnosis and treatment options for
colorectal cancer and other GI conditions.
The visit was particularly timely, as March is Colorectal
Cancer Awareness Month. Colorectal cancer is the third most commonly
diagnosed type of cancer and the third leading cause of cancer death among men
and women in the United States, according to the American Cancer Society. One
of the procedures performed at the Crozer Endoscopy Center at Brinton Lake is
colonoscopy, which is considered one of the most powerful weapons for
preventing and treating colorectal cancer.
The Crozer Endoscopy Center at Brinton Lake is part of the
Crozer Medical Plaza and Crozer-Keystone Regional Cancer Center building at 500
Evergreen Drive in Glen Mills. Using high-definition equipment, physicians can
find and address GI and liver problems quickly and efficiently, using minimally
invasive diagnostic and treatment procedures. The center, which also
offers direct-access colonoscopy appointments, can be reached directly at 610-579-3520.

Comments
comments