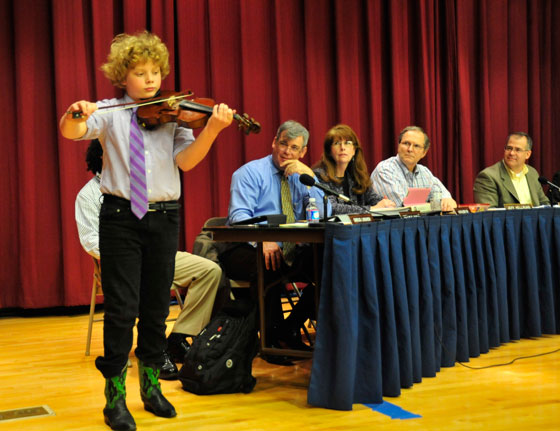 The Unionville-Chadds Ford
School Board wants the state legislature to change the law for prevailing
minimum wages. The current law requires a prevailing wage — set by the state —
to be used on all construction jobs costing in excess of $25,000, a figure that
hasn't been changed since set 51 years ago.
School Board Director Jeff
Hellrung offered a resolution — based on one set by the state association of
school boards — that asks the legislature to pass HB 1329 and raise the
prevailing wage limit from $25,000 to $185,000. The resolution passed 8-0 with
Director Frank Murphy abstaining because he was late for the meeting.
"It's a burden to us," Hellrung
said. "It inflates the cost of projects. It adds 10 to 30 percent to the cost
of a capital project."
The law says the secretary of
labor and industry shall "determine the general prevailing minimum wage rate in
the locality in which the public work is to be performed."
A prevailing wage is more than
the agreed upon wage set between employer and employee.
"When no workmen for which a
prevailing minimum wage is to be determined hereunder are employed in the
locality, the locality may be extended to include adjoining political
subdivisions where such workmen are employed in those crafts or trades for
which there are no workmen employed in the locality as otherwise herein
defined," the law reads.
There was a brief discussion on
the resolution.
Keith Knauss said he would like
to see no prevailing wage at all. He said the district could have saved $6
million on the high school project had it not been for the prevailing wage
requirement.
Jeff Leiser agreed, saying that
he would prefer to see a free market decide the wage rate.
There was one minor dissent,
but only to the wording of the resolution. The measure called the increase from
$25,000 to $185,000 as a "modest" increase.
Kathy Do asked that the word
"modest" be eliminated because the increase, she said, was 700 percent.
However, she said, "It's not a
deal-breaker."
The wording stood and the
resolution passed.
U-CF isn't the only political
entity in the area requesting passage of HB 1329. Birmingham Township passed a
similar resolution.
John Conklin, chairman of the
Birmingham Township Board of Supervisors, has called the prevailing wage
requirement an unfunded mandate.
The board met at Chadds Ford
Elementary School and members were entertained by CFES fifth-grader Andrew
Vogts who played the violin at the beginning of the meeting.

Rich Schwartzman has been reporting on events in the greater Chadds Ford area since September 2001 when he became the founding editor of The Chadds Ford Post. In April 2009 he became managing editor of ChaddsFordLive. He is also an award-winning photographer.
Comments
comments