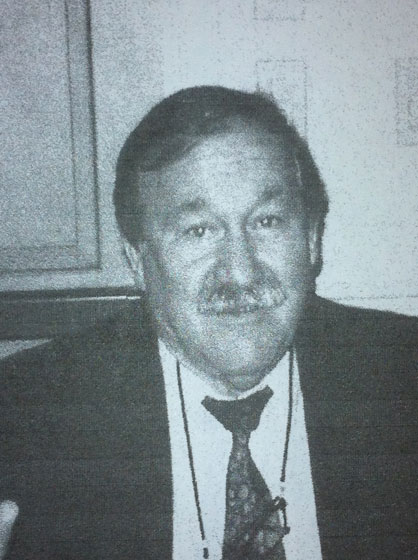 Sargio Joseph De Michiel, 83, died peacefully in his home
surrounded by his loving family and wife Joan. He died on the first day of
spring, a fitting parting, as it was a day of new beginnings.
Raised in New York City, he proudly served our country as a
sergeant in the U.S. Marine Corp in occupied China at the end of World War II.
While serving, he was a Golden Gloves lightweight champion boxer. After leaving
the service, he resumed his fine arts studies at The Arts Students League in
New York City and the Pennsylvania Academy of Fine Arts in Philadelphia. He met
his wife Joan Kabalan in Philadelphia. They married in Cape May, N.J. and later
resided in New London, where they raised their eight children. Sargio was not
only prolific of family, while operating "Sargio Signs", a successful
commercial sign business, but continued his fine arts endeavors in other
artistic mediums including sculpting, pottery and wood carving. His
entrepreneurial spirit led into many endeavors, including building his own
homes, owning several restaurants and farming. Later in life Sargio taught art
classes at the Chester County Art Association, the Academy of Lifelong Learning
in Wilmington, the Harrisburg Art Association and his home studio.
Sargio was compassionate about his community and was a
strong advocate for the rights of the developmentally disabled. He is survived
by his wife Joan, daughters Dianne (Doug), Maria (Angelo) and sons, Sante
(Amy), Mark (Janice), Greg (Lauren), Jeff (Donna) and Brian. He is also
survived by his fourteen grandchildren and nine great-grandchildren.
He was predeceased by his beloved daughter, Joanne and
sisters, Olimpia and Gloria and his father and mother, Sante and Maria De
Michiel.
You are invited to visit with his family and friends from 9
to 11 a.m. on Saturday, March 24, at Assumption BVM Church, 300 State Road,
West Grove. His funeral Mass will follow. Burial will be in St. Patrick's
Cemetery, Kennett Square.
In lieu of flowers, a contribution may be made to : Wounded
Warriors Project, P O B0x 758517, Topeka, KS 66675
Online condolences may be made by visiting www.griecocares.com
Arrangements by the Foulk & Grieco Funeral Home, West
Grove, PA (Phone: 610-869-2685)

See Contributors Page http://chaddsfordlive.com/writers/
Comments
comments