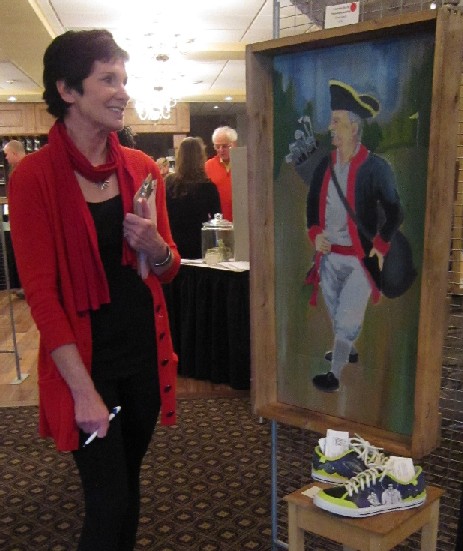 Over fifty artists displayed their work with a distinctively local flavor at Radley Run Country Club Friday and Saturday, March 9 and 10. The event was organized by a group of members of the club for the benefit of Safe Harbor of Chester County. The committee was headed by sculptor Karen Delaney. In the third year, Delaney said that the venue is sought after by artists so the committee has become selective about exhibitors.
Walking through exhibit was like strolling though Chester County with many familiar scenes and landmarks. Artist Fred Weyman wonders which was older, the tree or the Brinton family home. Both are likely over three hundred years old.
Robert Lott exhibited a photograph of the well trod brick pathway at Longwood Gardens and as well as an underground passage less travelled by. His photographs capture art within art. One award winning photograph "Graffiti Underground" contrasts colorful, chaotic graffiti underground with a serene city skyline.
Polly Davis Chalfont exhibited several nature oil paintings inspired by flowers at Longwood Gardens as well as whimsical characters created by pencil and kneaded eraser. Chalfant donated one of her pieces to be auctioned. She said it was hard to write a check for every worthy cause and that being able to donate work was a way she could support Safe Harbor.
Jake and Sonya Lewandowski (on left) purchased a wall hanging from Karen Delaney.
The opening night attracted hundreds of people followed by a steady of stream of people all day Saturday. The event was culminated by a silent auction Saturday afternoon. Net proceeds from sale go to Safe Harbor, an organization which provides shelter for homeless people.

Emily Myers has lived and worked in Chadds Ford for over thirty years.  She founded the parent company of Chadds Ford Live, Decision Design Research, Inc., in 1982.  ChaddsFordLive.com represents the confluence of Myers' long time, deep involvement in technology and community. Myers was a founding member of the Chadds Ford Business Association and currently serves on its board of directors.  Her hobbies include bridge, golf, photography and Tai Chi. She lives with her husband, Jim Lebedda, in Chadds Ford Township.
Comments
comments