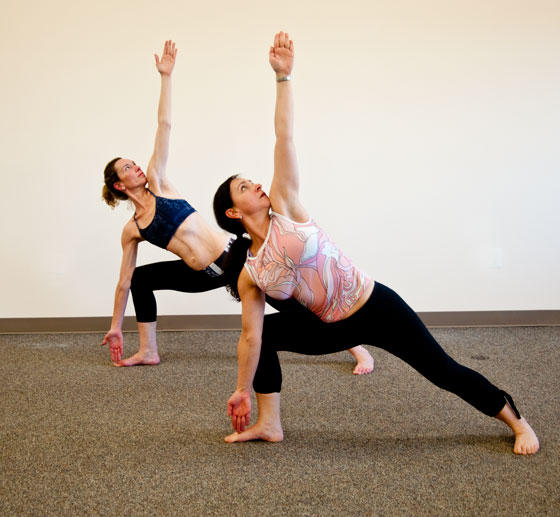 It would seem that there is a
large market for yoga in the greater Chadds Ford area. Bikram Yoga opened on
Route 202 in Chadds Ford Township on Feb. 4 and, according to Megan van Riet
and Heather Dunghe who run the studio, there are already 600 students attending
the more than 20 classes per week.
While there are other studios
in the area and the Kennett YMCA offers free classes to its members, van Riet
said there's a good reason for people to try Bikram Yoga, a form named after
its founder, Bikram Choudhury.
"It's the training that we
have. It's the heat and for the series. The series is nowhere else. It's
copyrighted," van Riet said.
Every Bikram instructor is
required to undergo 1,500 hours of instruction under Choudhury. The studio is
heated to 105 degrees and a humidity of 40 percent is maintained.
"We teach a very specific
series that's designed to give results," said Dunghe.
That series is made up of 26
specific yoga postures and two breathing exercises.
"They touch every single part
of the body from the inside out, bones to skin, finger tips to toes," van Riet
said. "[The postures] address the most common problems that we all have and
that are safest for most of us."
There are no headstand postures
taught and the studio has a ballet bar for students with balance problems. The
series of postures is also stationary. Van Reit said that makes things safer
for students.
Among the common ailments that
Bikram Yoga can address, she said, are mood disorders, diabetes, heart disease,
asthma and hypertension.
The heated room is also seen as
part of a safer practice because it relaxes the muscles and burns calories.
"You can stretch farther and is
a great calorie-burner. A lot of people come for weight control," van Riet
said.
The rare contra-indicator for
Bikram Yoga is medication, but there is a work around.
"Occasionally we get someone
who comes to us who is on a lot of medication where they might experience
dizziness, light-headedness because they're on a lot of blood pressure
medication. We do have students who have [previously] had heart attacks, open
heart surgery, that kind of thing. In that case we usually put them by a door,
by a window and they know to sit down if they don't feel well. They tell us
when their medication has been adjusted. They are some of the most committed
practitioners," van Riet said.
She added that her husband had
heart surgery, and has since lost 85 pounds doing yoga.
Van Riet acknowledged that
people with high blood pressure are often told to avoid excess heat, such as in
saunas and steam rooms, but said the heated temperature in the studio is less
than that of a steam room or sauna.
"It's good for high blood
pressure, but we always tell students to listen to [their] body first and our
instruction second," she said, adding that students sign waivers and the
instructors never tell students to do anything that the students' doctors have
said they shouldn't do.
Classes are 90 minutes long and
are designed for beginners, though some of the students have been long-time
practitioners. Each class takes the student through all 26 postures.
"Even if they can't do the
whole posture, they can start to do the posture the right way." van Riet said.
Dunghe added that part of the
instructor class included a dialogue to help students get into and out of the
posture the safest way.
For more information on Bikram
Yogo, directions, its fees, or to get a class schedule, call 610-358-2258 or
visit www.bikramyogachaddsford.com
Bikram Yogo of Chadds Ford is offering two free introductory class
session is March. They're scheduled for 3:30 p.m. Sundays, March 4 and 11. The
studio is located next to Fishers Carpet One on Route 202 near Oakland Road.

Rich Schwartzman has been reporting on events in the greater Chadds Ford area since September 2001 when he became the founding editor of The Chadds Ford Post. In April 2009 he became managing editor of ChaddsFordLive. He is also an award-winning photographer.
Comments
comments