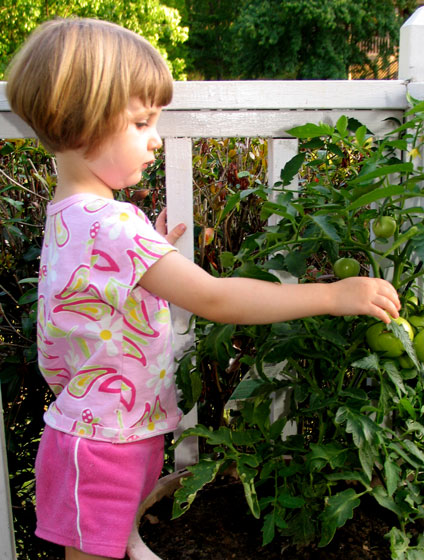 Growing vegetables can be a
rewarding family activity. Gardens teach children how plants grow, where food
comes from, and why healthy eating is important. Planting and raising
vegetables teaches planning and patience. Most of all, growing vegetables can
be lots of fun.
You may want to start with a
visit to the library. There are some great children's books on vegetables and
gardening, and books are great way to spark interest during the winter when
garden planning takes place.
Looking at seed catalogs can also be a fun way to get the discussion
going.
On warmer days (of which we seem
to be having plenty), you can go outside to survey your garden (if you already
have one) or plan where to put a garden (if you don't). This is a good opportunity to map out
what you might grow and where you might put it. You may also want to make your
deer and rabbit battle plans (fencing usually works best).
Here are some vegetables that
work well for young gardeners:
Peas
Peas are easy for little hands
to plant, they grow quickly, and are easy to pick. Children love to open the
pods to see what's inside—and are delighted to learn how tasty raw peas can
be.
Leafy Greens
Lettuce and spinach can be eaten
as soon as the leaves are big enough to pick and will yield nutritious salads
for several weeks. Look for varieties that are slow to bolt if you want
to harvest into the summer.
Broccoli
Broccoli can be grown from seed,
but you will have your harvest much sooner if you start with plants purchased
at a garden center. Eaten as a snack or cooked up for dinner, broccoli
"trees" are a favorite of little dinosaurs.
Carrots
Carrots must be started from
seed and can be planted any time from March through July. The tiny seeds
are hard to handle, so some people mix them with radish seeds (the radishes
will be gone before the carrots are ready for harvest). Plant a rainbow seed
collection of purple, yellow, white, and orange carrots and the harvest becomes
a nutritious treasure hunt.
Tomatoes
Cherry tomatoes are easy to grow
and produce lots of fruit. Most children prefer them to slicing
tomatoes. When you are shopping for plants, look for a variety of shapes
and colors to give snacks and salads more appeal.
Cucumbers
Cucumbers are easy to grow from
seed and once they get started, just keep growing. They will need something to
climb on, such a fence or trellis, and need to be picked frequently.
Beans
Beans sprout quickly after
planting and grow rapidly. Bush beans are tidy and easy to pick, but "Jack in
the Beanstalk" pole beans are more fun. To create a secret hideaway, grow pole
beans on a tepee made of sticks or bamboo poles.
Pumpkins
Pumpkins are fun to watch as
they grow, but the large ones require a lot of space for their vines to spread
out. Small pumpkins or decorative gourds can be grown on a fence or
trellis and may be more practical for a backyard garden.
Strawberries
Strawberries are perennial
plants and the perfect fruit for a family garden. If you plant them early
in the spring you can pick some that year. Take good care of them and you will
have an even bigger harvest the following year.
There is a real sense of
accomplishment when the food on your dinner table comes from your own
garden. As a bonus, you know it's healthy and you know it's fresh. Start
with a few family favorites and expand your garden as your interest
grows.
If you'd like to learn more
about vegetable gardening (and lots of other stuff!), plan to come to the Penn
State Extension Master Gardeners' spring gardening event on April 28 at the
East Goshen Township Building on Paoli Pike. Stay tuned for more information. Follow us on Facebook (Chester County
Master Gardeners)

Nancy Sakaduski is a Master Gardiner with Penn State Extension of Chester County.
Comments
comments