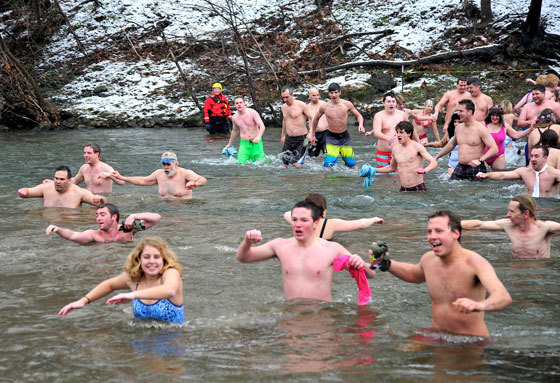 What's it like to jump into a
34-degree Brandywine Creek when it's 43 degrees outside?
"I'm freezing. I can't feel my
feet," said Jessica Brown after taking part in the fifth annual Polar Plunge at
Brandywine Picnic Park. The plunge benefits the Brandywine Valley Association.
"It's for a good cause and it's
a fun time," she added.
Brown's friend, Jonathan Hare,
who took the plunge as part of a group, said he got involved because of his
family.
"My dad's been wanting to do it
for a few years, so we finally caved in and joined," he said.
How did he feel about doing the
plunge?
"I feel like I just scraped
something off my bucket list."
According to Jim Jordan,
executive director of the BVA, "It's a zany event. I think a lot of people do
this as a badge of honor. You plunge, you might spend 30 or 45 seconds in the
water, but people will wind up talking about it at cocktail parties, dinners,
school. So it's a badge of honor that people use and what we find out is that a
lot of people do it once, say they only want to do it once so they can say they
did it, but then they turn around and come back year after year."
About 600 people have taken the
plunge during its first four years.
Jordan is pleased with the
bragging rights allure of the plunge, but is more pleased with the results. In
the previous four years, the plunge has raised more than $55,000 for the BVA's
conservation efforts. He said he was hoping for another $20,000 from the Feb.
11 event. The plunge is a barometer of how the BVA will do financially the rest
of the year, he said.
"I like to think that people do
this because they really care about conservation and care about the Brandywine
Watershed. In a small way, this is how everybody can help the watershed,"
Jordan said. "This does two things for BVA. It raises much-needed funds for our
watershed conservation efforts and our education efforts, but it also raises
awareness of the Brandywine. The water we're plunging in today is water they'll
be drinking in the city of Wilmington."
He said the Brandywine is the
only source of drinking water for Wilmington.
The money raised by the Polar
Plunge comes from plungers themselves and from pledges. Each plunger puts up
$35 — $25 if they have a student ID — but the BVA encourages the plungers to
get people to make pledges if they jump into the freezing water.
"They get pledges, just like
you would do for a walk-a-thon, have people pledge your plunge," Jordan said.
Some plungers get up to $1,000
in pledges.

Rich Schwartzman has been reporting on events in the greater Chadds Ford area since September 2001 when he became the founding editor of The Chadds Ford Post. In April 2009 he became managing editor of ChaddsFordLive. He is also an award-winning photographer.
Comments
comments