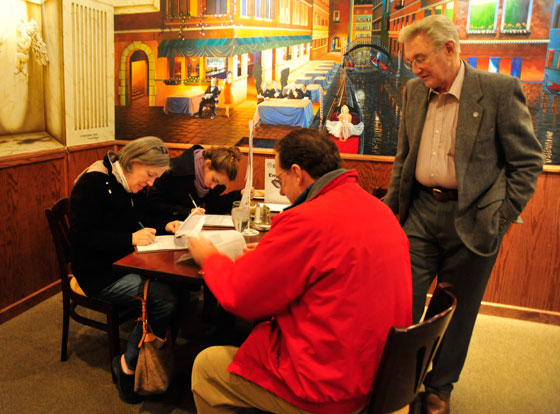 State Rep. Steve Barrar, R-160,
of Boothwyn, has begun his campaign for a ninth term in office. Barrar was in
Chadds Ford on Feb. 12 for a petition-signing event at Pescatorte's restaurant.
Major party candidates for state representative need to collect 300 signatures
during a three-week period from party members to qualify for the primary
ballot. The number of signatures each candidate needs depends on the office
being sought.
The Chadds Ford Republican
Party held the event. It was collecting signatures for candidates for all
ballot slots from Mitt Romney for president to delegates to the GOP convention
and all races in between.
"The big issues are still what
they were two years ago, the economy and jobs," Barrar said. "I don't think
there's anything more important in our country right now and the state of
Pennsylvania than stimulating the economy."
He said the state is still
deficit spending to the tune of being $500 million in the hole and the
legislature and governor will have to have a very tight budget that, he said,
"will make some people angry."
He said raising taxes at this
point would have a "negative effect on our economy."
However, he said, there is a
recently passed bill that allows counties to levy impact fees on Marcellus
Shale.
"The impact fee will be a
little less than a severance tax would be, but the impact fee will generate
over a 10–year period about $300,000 of revenue to the state," Barrar said.
"The counties and municipalities will keep half of that, and the state will
take the other half and put that into what we refer to as a Marcellus Shale
Legacy Fund."
That fund will go to
environmental programs throughout the state.
He acknowledged the fact that
there are people who would have wanted a higher severance tax, but, Barrar
said, that would have hampered job growth in the Marcellus Shale region, the
only place in the state where there is significant job growth.
"I really don't think right
[now] is the time to whack these people with a high tax. I think once they get
established here, once they have their infrastructure in place, I won't have a
problem with us increasing this impact fee or, at that point, adding a
severance tax."
The impact fee is levied by the
counties and collected by the counties and then distributed to the state. A
severance tax, he said, is a tax, like a sales tax, that's added to every 1,000
cubic feet of gas.
He also said the impact fee is
tied to the price of natural gas and will rise as the price of the natural gas
rises.
As for the signatures
collected, Barrar said he would likely be turning in about 1,200 signatures
three days before the Feb. 16 deadline.
He has not heard of any
competition from the Democratic Party, but, "If I do, I'm confident."
Phoned for comment, Chadds Ford
Democratic Party Chairman Rob Porter said the Democrats are not challenging
Barrar this year.

Rich Schwartzman has been reporting on events in the greater Chadds Ford area since September 2001 when he became the founding editor of The Chadds Ford Post. In April 2009 he became managing editor of ChaddsFordLive. He is also an award-winning photographer.
Comments
comments