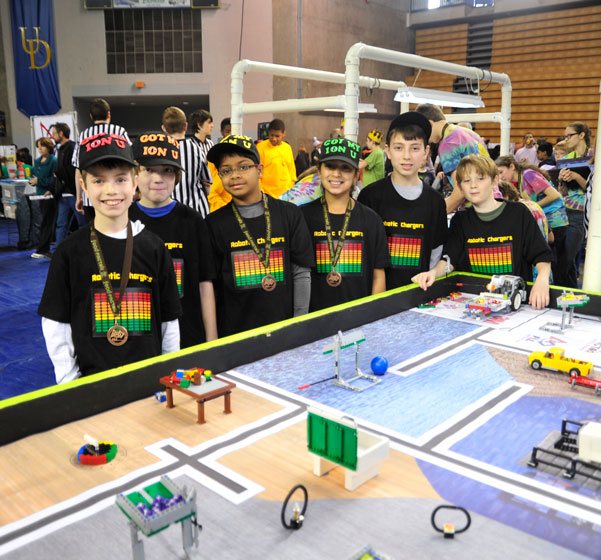 Education can take many forms.
Even a robotics competition can teach kids about food safety.
That was the case for The
Robotic Chargers, a group of C.F. Patton Middle School and Chadds Ford
Elementary School students taking part in the First Lego League competition at
the Bob Carpenter Center in Newark on Saturday, Jan. 28.
The competition has three
parts, a robotics challenge, a research project and a core value judging.
According to Kim DuPont, one of
the team's coaches, First Lego League sends out a topic each year. This year
the topic was food factor and the students did the research, choosing to study
campylobacter.
"They did research. They went
on the CDC Web site. CDC gives great statistics on what are the most common
bacterial and viral infections. We found campylobacter is the leading cause of
putting people in the hospital. So we decided to see what food that attacks —
chicken," DuPont said.
She said campylobacter sends
about 9 million people to the hospital each year.
One thing the students have to
do is come up with a solution to the problem.
"…[O]ur solution was
ionization," said DuPont. "You have ions that stick to campylobacter. They have
things called pilli that stick out of them. They're very sticky bacteria. So
our ions stick to the campylobacter, pull them off the chicken in a vacuum
process. We created a system called Mr. Food Safe, which uses positive
ionization to suck campylobacter and other bacteria off of chicken."
The robotics challenge part of
the competition dealt with food and food handling, with only a partial
connection to the research project.
"One of our missions [was] to
get bacteria out of a tractor trailer, a refrigerated tractor trailer that has
two red bacteria in it. So, our mission is to grab the trailer, get it into
bays and dump out the bacteria," said DuPont.
Other "missions" involved using
the robot to remove a model rat "from the food world" while another involved
cleaning an area of fish.
She added that there was a
practical learning application to the project: "If you're clean and you follow
proper safety issues and wash your hands and clean up around the kitchen, you
won't have bacteria laying around your counter top."
There were 42 teams involved in
the competition, some from Washington, D.C. and from Virginia.
The Robotic Chargers are sixth-grader Andrew Binder from Charles F. Patton
Middle School and fifth-graders Anand Raju, Joshua Binder, Kessler
DuPont-Teevin, Liam Jackson and Mira Zutshi from Chadds Ford Elementary School.

Rich Schwartzman has been reporting on events in the greater Chadds Ford area since September 2001 when he became the founding editor of The Chadds Ford Post. In April 2009 he became managing editor of ChaddsFordLive. He is also an award-winning photographer.
Comments
comments