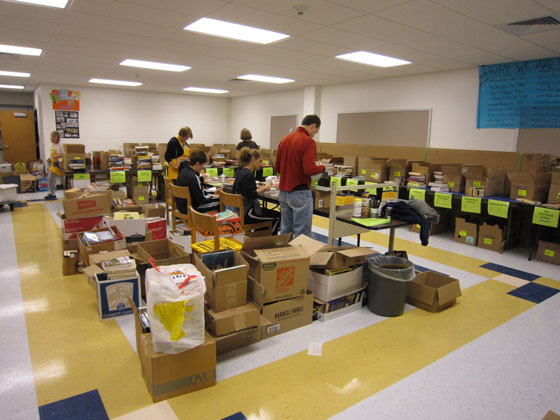 • Chadds Ford Township supervisors
voted 2-0 to purchase a new security system for the township building during
their Feb. 1 board meeting. The cost of the system — through Delco Alarm
Systems — is $12,000. The monthly fee will be $68. The monthly fee will be $68.
Supervisors also voted to appoint Concordville Fire and Protection Co. as its
fire marshal. Fred Field, Concord Township's fire marshal will do the work.
• The Chadds Ford gallery
presents Nocturne, an exhibit of celestial themed artwork by 20 different
artists. The exhibit opens Friday, Feb. 10 from 5-8 p.m.
• Dozens of volunteers began receiving and sorting donations for
the 2012 Unionville High School Book Sale Saturday January 28. Co-Chair Cindy Hineman said the reason
this book sale is stands out among others is the organization of the books by
topic which makes it easy for people to find what they want. They expect 80,000 books on topics from
religion to SAT prep.
More than $35,000 was raised last year. Proceeds are distributed by the PTO for
special classroom projects. Awards
were given to fund requests from benches to e-books for Nooks.
Book collection will continue until Feb. 22. The sale runs for two days Friday
beginning Feb. 24 from 5 to 9 p.m. and Saturday from 9 a.m. to 2:30 p.m.. Bag sale is from 3-5 p.m.. Refreshments will be available during
the event.
For more information go to the Book Sale website http://www.UHSBookSale.org or e-mail
chair@UHSBookSale.org
• The Delaware Museum of
Natural History celebrates Presidents' Day on Monday, Feb. 20, with Natural Leaders: Presidents and Nature,
sponsored by Exelon Power. This family-friendly event features hands-on
activities and crafts about presidents' roles in environmental preservation and
conservation.
Visitors will learn important facts about past presidents and their effects on
the natural environment. Families can embark on a scavenger hunt around the
museum to find animals discovered on Thomas Jefferson's Lewis and Clark
Expedition. A matching game will explain Theodore Roosevelt's "natural"
empire of national forests, parks, and preserves. A special activity
incorporating duck stamps - along with live ducks - will highlight this
conservation effort begun by Franklin Roosevelt.
Admission is $8 for adults, $6 for children (3-17), $7 for seniors, free for
children 2 and younger and free for museum members.
• The Desmond Hotel &
Conference Center in Malvern is hosting a casino night for the Garo Yepremian
Foundation on Feb. 17 from 6:30-11:30 p.m. The foundation raises funds for
brain tumor research. Proceeds support Jefferson Hospital for Neuroscience's
brain tumor research program. It was a brain tumor that led to the death of
Yepremian's daughter, Debby, a Unionville High School graduate. She was 26. For
information, reservations or tickets call 610-249-2121 or email events@desmondgv.com
• The landmark endeavor by the Brandywine
Conservancy to protect the nearly 5,400 acres of critical farm and forest
land of the former King Ranch property in Pennsylvania and its valuable water
resources that feed the Brandywine Watershed is chronicled in the new book, "Catalyst for Conservation: The Brandywine
Conservancy's Success in Saving King Ranch Lands in Pennsylvania."
It was
written by David Shields and Bill Benson. Shields worked on the King Ranch
project almost from its inception and currently works as associate director of
the land stewardship program of the Brandywine Conservancy's Environmental
Management Center. Benson is the former director of the Chisholm Trail Heritage
Center in Duncan, Oklahoma, and conducted archival research about the King
Ranch and its former president, Robert J. Kleberg. A book signing will be held
at the Brandywine River Museum on Sunday, April 22, from 1 to 3 p.m., including
a lecture by David Shields from 1 to 1:30 p.m.
• Become a Certified Food
Manager in Chester County. The National Restaurant Association's ServSafe®
Certification Course will be offered by Penn State Extension in Chester County on
Feb. 14, from 8 a.m. to 5 p.m. The course includes the ServSafe® Essentials
book and exam. Books and exams are available in other languages—call for
details. The class will be held at the office of Penn State Extension, Chester
County Government Services Center, 601 Westtown Road, Suite 370, West Chester.
To register, go online to http://extension.psu.edu/chester and look under
Upcoming Events/more or call 1-877-489-1398. Registration deadline is Feb. 7,
2012.

See Contributors Page http://chaddsfordlive.com/writers/
Comments
comments