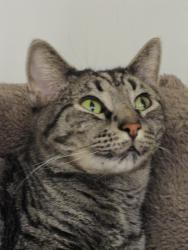 Margo is a beautiful young adult domestic short-haired cat
that is available for adoption at the Chester County SPCA. Margo was found outside after being
abandoned by her owners when they moved out of the area in early September. Upon coming to the shelter, it was
found that Margo was pregnant and so she was placed in a foster home to raise
her kittens and acclimate to a home environment. All of her kittens were since adopted, and Margo has been
waiting far too long for a new family.
She is an extremely outgoing and friendly cat who loves both to play and
snuggle as much as possible. Both
Margo's personality and good looks set her apart as a truly wonderful cat –
especially for the special adoption fee of only $25! If you are able to provide Margo or any of our other animals
here at the shelter a home, visit the Chester County SPCA at 1212 Phoenixville
Pike in West Goshen or call 610-692-6113.
Margo's registration number is 96805333. To meet some of our other adoptable animals, visit the
shelter or log onto www.ccspca.org.

See Contributors Page http://chaddsfordlive.com/writers/
Comments
comments