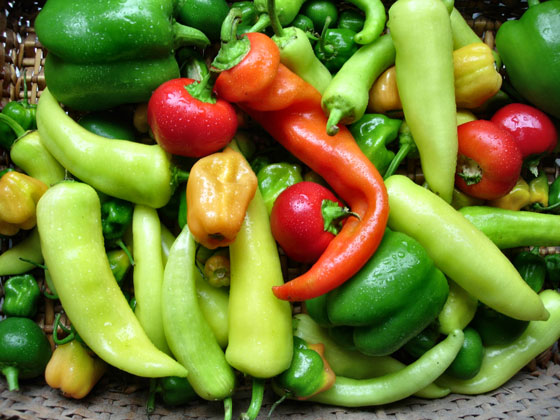 This is the time of year
when the vegetable seed catalogs pour in and the gardener gets to dream of the
bounty to come. The only hard part
is deciding what to choose.
You can select
vegetables and herbs for the home garden by responding with almost Pavlovian
enthusiasm to the extravagant photographs of comely cucumbers, luscious
lettuces, and tantalizing tomatoes. Or you can do it more scientifically by
evaluating each crop's requirement for spacing, light, water, fertility, and
maintenance. Perhaps a judicious blending of the two approaches is best.
Fortunately, the
different varieties of vegetables available today enable gardeners to grow more
types of crops in more types of spaces and situations. Gone are the days of
needing large plots to grow cucumbers to pickle or long growing seasons to grow
tasty tomatoes. Breeders are bringing more varieties to the home garden than
ever before. Whether a gardener's limitations are dictated by a lack of space,
disease resistance, or the length of growing season, finding the right plant
for the right place has never been so easy.
The first thing to
consider is what your family will eat.
If you don't think about this, you may find yourself anonymously leaving
zucchinis (or rutabagas, or whatever) on every doorstep in your neighborhood.
Another consideration is
timing. If you plant a crop that
must be harvested during a short period of time, you should either plant a
small amount or be prepared to preserve (freeze, dry, or can) the produce. You might also look at a calendar to
avoid having all of your tomatoes ripen, say, while you're on vacation in South
Carolina.
You may also want to
save yourself some grief by looking for varieties that are resistant to common
diseases. This does not mean the
plants are bulletproof, but it will provide some insurance that you won't be
totally wiped out.
A great resource is the "Pennsylvania
Vegetable Variety Recommendations" publication offered by Penn State and
available at http://pubs.cas.psu.edu/freepubs/pdfs/uj250.pdf. This publication not only lists
specific vegetable varieties that have performed well in scientific trails in
Pennsylvania, but also shows disease resistance and days to harvest, and
comments on each variety's attributes.
A handy index keyed to the list displays catalog and online sources
where you can purchase the recommended varieties.
Another excellent tool
is the Vegetable Varieties for Gardeners database created by Cornell
University: http://vegvariety.cce.cornell.edu/main/login.php.
This web-based tool allows individual gardeners to rate specific varieties and
provide comments on taste, yield, ease of growing, and other characteristics.
By looking at the combined ratings, you can get an idea of which varieties
perform best for the average home gardener.
If herbs are of
interest, a good place to start is "Growing Herbs in the Home Garden" from West
Virginia University Extension: http://www.wvu.edu/~agexten/hortcult/herbs/ne208hrb.htm#Growing. This site provides a good overview on
all kinds of herbs, their use, and growing requirements.
So pull a comfy chair up
to the fireplace, get a cup of steaming tea, and kick back, catalogs in hand,
and get to work! This is the time
of year to dream…
* Nancy Sakaduski is the Chester
County Master Gardener Coordinator. Master Gardeners are trained
volunteers who educate the public on gardening and horticultural issues.
In Chester County, they operate through the Penn State Cooperative Extension
office in West Chester. Nancy lives in Pennsbury Township. She can
be reached at nds13@psu.edu.
Penn State Master Gardeners educate the public on best practices in
consumer horticulture and environmental stewardship. Visit the Chester County
Master Gardeners on Facebook: https://www.facebook.com/#!/ChesterCountyMasterGardeners
If you are interested in donating fresh produce from your garden, contact the
Chester County Food Bank: http://chestercountyfoodbank.org.

Nancy Sakaduski is a Master Gardiner with Penn State Extension of Chester County.
Comments
comments