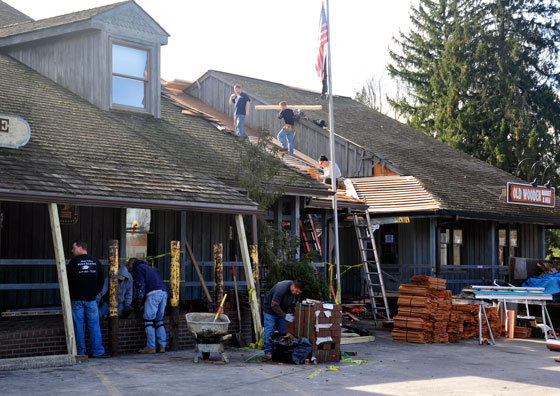 A new deli and a coffee shop
remain possibilities for the site of the former Old Wooden Market and Deli in
Chadds Ford.
Casey Lafferty — one of the new
owners of the little strip mall in the village area of Chadds Ford that
contains the US Post Office and Bryn Mawr Trust Bank — said he is negotiating
with several businesses to lease the property.
"That's a big question for us,
too," he said when asked about the deli location. "We are trying to be as
diligent as possible, talking to different people. We've spoken to over a dozen
potential clients. We have a couple of possibilities moving forward for an
upscale deli or a coffee house style space."
Lafferty said he is aware of
the disagreements the previous two tenants had with the township regarding
outdoor seating, but added that would be a situation best handled by any tenant
that leases the property.
"I don't know that there would
be any seating outside because I don't know who the potential tenant would be. But,
I think, if there's somebody interested in that space it would be up to them to
handle that with the township," Lafferty said.
Lafferty and his partner,
Eugene O'Brian, bought the shopping center in June, the month after the deli
closed.
Recently, work crews began
repairing the roof and the brick walkway at the shopping center. Lafferty said
they will likely need to replace wall sections and then will probably have to
re-stain those sections to match the existing ones because the post office is
government property.
The corner property where the
deli was located has been a topic of discussion ever since Wawa pulled out in
early 2008. The location was empty for a year before Pennsbury Township
resident Kevin Cattie reopened it as a deli, The Cattie Shack, in January 2009.
Cattie sold the business in September of '09 to Bill Bondarchuk who later
renamed it The Old Wooden Market and Deli. Bondarchuk closed the business on
May 31, 2011.

Rich Schwartzman has been reporting on events in the greater Chadds Ford area since September 2001 when he became the founding editor of The Chadds Ford Post. In April 2009 he became managing editor of ChaddsFordLive. He is also an award-winning photographer.
Comments
comments