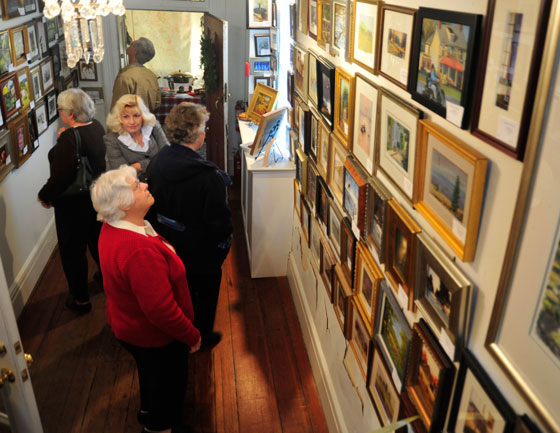 It's been 30 years since the
Chadds Ford Gallery started Christmas in Miniature and this year's annual
exhibit is a homecoming for several artists — such as Rick Bollinger and Karl
Kuerner — who displayed in that first event, but haven't been back in a while.
"It's been a phenomenon that's
worked and we're very pleased that it's been popular all these years," said
gallery Director Barbara Moore, who started the idea in 1981.
She said the initial thought
was to get younger people to forego the $25 reproduction and buy a small piece
of original art. Once people get original art, they become collectors "who
become collectors who learn to appreciate what real art is."
For gallery owner Jackie
Winthur, the 30th anniversary show far exceeds others in the past.
"The work is better, there are
more artists and we have some of the original artists," she said.
In addition to Bollinger and
Kuerner, there are pieces of art from Ann Wyeth and Anna B. McCoy. A total of
75 artists in all are showing in this year's Christmas exhibit that runs
through the end of December.
Winther is proud the annual
exhibit has lasted 30 years, and proud that the Gallery was the first.
"It's really grown and a lot of
the galleries have copied. So, we don't get the huge crowds that we used to
get, but we think ours is the best," Winther said.
While it may be a tradition in
Chadds Ford, there's always a first time for everyone. And so it was with Kim
Hall, a 27-year-resident of Downingtown.
"I came in a month ago to get a
print of Stop by Andrew Wyeth…I can't believe I hadn't heard of Christmas in
Miniature before because my mom is all about Chadds Ford," she said.
Was Hall impressed with what
she saw?
"Yes. I bought three prints,
some cards and my Stop."

Rich Schwartzman has been reporting on events in the greater Chadds Ford area since September 2001 when he became the founding editor of The Chadds Ford Post. In April 2009 he became managing editor of ChaddsFordLive. He is also an award-winning photographer.
Comments
comments