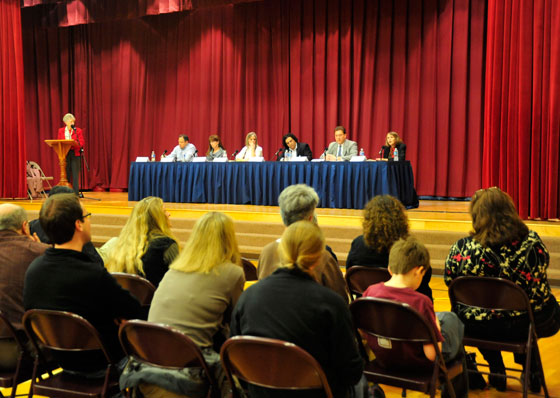 It took almost two hours, but
there was finally some friction from two school board candidates participating
in a meet the candidates' night at Chadds Ford Elementary School Wednesday
night.
Incumbent board Vice President
Frank Murphy and challenger Kathy Meehan Do crossed words over the retirement
of former Unionville-Chadds Ford School District Superintendent Sharon Parker.
Murphy, a Republican, said
during his closing remarks that he accepted Parker's word that she had retired,
not resigned, and that he would accept her "veracity."
Do balked
over that word, since Murphy had used that phrase before in accusing Do of
saying Parker stepped down because of school board actions.
"Mr. Murphy, I have to take
extreme exception to your comment that I had questioned Sharon Parker's
veracity," Do said. "If anyone knows me, and knows about my relationship with
Sharon Parker, nothing could be further from the truth and I'm extraordinarily
insulted by the comment."
Do admitted she accidentally
used the word "resigned" one time, but that was a mistake on her part.
She accepts Parker's statement
that she retired to spend time with her family and to reduce the stress level
in her life.
"What I said in April and in
May was that I felt that her life had been too stressful and a lot of that was
due to the board. They had made her job too difficult and I stand by that
statement," Do said.
After the session, Murphy said
he doesn't think there's any friction between him and Do, but said it was
important for him to "make sure the record is absolutely clear that Sharon
Parker retired after a long and storied career in education, that she had the
full support of this board, that we wanted her to stay, but she made a personal
decision to move on to other things in her life."
Murphy said his opponents, Do
and her fellow Democrat Gregg Lindner, had not been as clear on that point as
they should have been.
Do said after the session that
Murphy's comment, implying that she questioned Parker's veracity, was hurtful.
She said Parker became a friend
to Do's family when Parker drove to Harrisburg to advocate for Do's son who had
been denied eligibility to play sports in his senior year. According to Do, the
PIAA granted the appeal only because of Parker's intercession.
"She drove there because she
believes in a holistic education and she believes in supporting each and every
child. So, for someone to publicly say that I would doubt Sharon Parker's
veracity was extraordinarily upsetting. I'm glad we discussed it tonight. I'm
glad I had the chance to explain that I never said the board forced her out."
In all, six of the eight
candidates running to represent three regions in the U-CF district took part in
the evening that was hosted by the League of Women Voters and the
Unionville-Chadds Ford PTO.
In addition to Do, Murphy and
Lindner were Timotha Trigg and Sharon Jones representing Region C, Chadds Ford
and Pennsbury townships, and Rob MacPherson, seeking a seat in Region A, East
and West Marlborough townships. MacPherson's opponent, Vic Dupuis was out of
town to attend a family wedding.
Eileen Bushelow, of Birmingham
Township, did attend, but sat out because she's running unopposed.
Candidates were allowed two
minutes each for an opening statement. Then they were given 90 seconds to
answer a question handed in from the audience. Each candidate answered the same
question. Closing statements were limited to two minutes.
Dominating the responses during
the question and answer period was talk of the need for better communication
between the board and the community and the need to find better and different
ways to generate revenue. None of the candidates felt the current level of
communication was adequate and none thought that taxation alone was a good
choice for revenue. Do, however, advocated raising taxes to the Act I Index
limit, something the board did not do this year.
All candidates stressed the
need for maintaining the high level of educational excellence for which the district
is known, and Do offered on area of possible change to the curriculum.
She's an advocate of the Common
Core, a curriculum concept that she said is superior to No Child Left Behind.
Instead of having teachers teach to the test, as with NCLB, she said, Common
Core stresses the concepts that students must be proficient in in the various
academic disciplines at a given grade level.
Do used literacy as an example.
Under Common Core, she said a child finishing third grade should be able to
"ask and answer questions to show they understand the text, determine the
central message and describe the characters. By the end of the fourth grade,
the student should be able to describe the story by using details and examples
from the text and identify a theme. By the fifth grade, that same child needs
to be able to draw inferences from the text, talk about how characters respond
to challenges and compare and contrast characters.
"Each year it goes higher and
higher so that by the time they graduate they have to cite strong and thorough
textural evidence to support analysis of what the text says."
The school board election is
Tuesday, Nov. 8.

Rich Schwartzman has been reporting on events in the greater Chadds Ford area since September 2001 when he became the founding editor of The Chadds Ford Post. In April 2009 he became managing editor of ChaddsFordLive. He is also an award-winning photographer.
Comments
comments