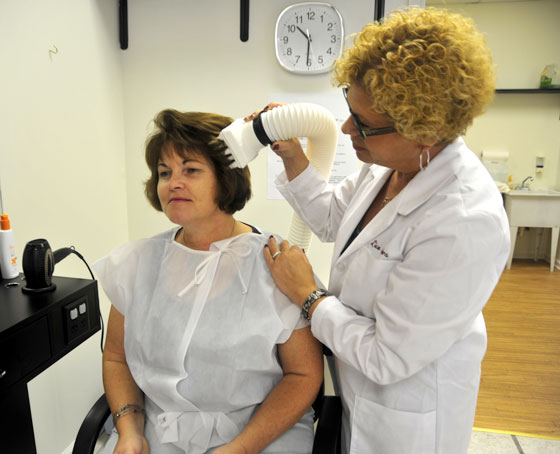 It may not be a topic that people want to talk about, but head lice are, what Judy Young calls, "an equal opportunity bug," affecting anyone regardless of age or social strata.
Head lice are insects that live only on the human scalp. They usually start with kids, but once in the home, everyone in the family can be affected. They don't cause illness, but can cause secondary infections from the scratching that people do to relieve the uncomfortable itch.
Young, a former school nurse in the Wallingford-Swarthmore School District, opened Lice Lifters in the Plaza at Chadds Ford on Route 1 near Heyburn Road in August. She said she had seen an exponential increase in the incidents of head lice.
Lice Lifters employs a hot air treatment with a device called the Louse Buster, an FDA approved appliance. It's similar to a hair dryer with a diffuser attachment, but uses controlled heat and airflow to kill the lice and the nits.
Young said the 130 degrees does not burn the scalp.
"We're constantly moving it and we rock it back and forth and it's 30 seconds in each area," she said.
Young added that they move the device in specific, overlapping patterns, the horseshoe and the Mohawk, to cover the entire head.
That procedure kills the nits, but is followed by a complete comb out for cosmetic reasons. She sends the client home with a solution that "smothers" the live bugs.
A complete treatment, with the Lose Buster and comb out can take an hour or longer, depending on the length and thickness of the hair.
Lice Lifters charges $175 for the treatment and another $20 for the solution. Young said they've had complete success.
Young said the Louse Buster kills 84 percent of the bugs and 99.2 percent of the nits, while the solution handles the rest.
A female louse lays three to five eggs twice per day, Young said. The solution, used properly, destroys the lifecycle.
According to Young, lice have been around for time immemorial, affecting such people as Cleopatra and George Washington.
"They can only live on a human head. They can last about 24 hours off a human head, like on a sofa, then find their way back into somebody's head."
The Louse Buster can't be used on children younger than the age of four or for anyone with metal in their head, Young said.
For questions or an appointment, call 610-558-1434.

Rich Schwartzman has been reporting on events in the greater Chadds Ford area since September 2001 when he became the founding editor of The Chadds Ford Post. In April 2009 he became managing editor of ChaddsFordLive. He is also an award-winning photographer.
Comments
comments