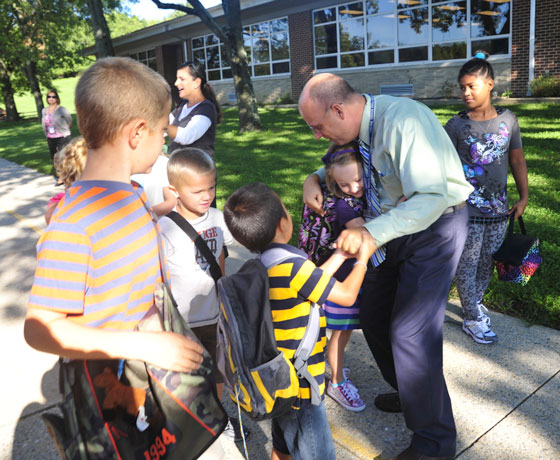 The new school year might have
begun a day later than planned because of Hurricane Irene, but optimism is
high. There is a tentative contract agreement with teachers and a new
superintendent for the Unionville-Chadds Ford School District.
While the district awaits a
vote by teachers on the proposed contract — possibly next week — the new
superintendent has nothing but praise for the district, his predecessor and
love of his chosen profession.
John Sanville said he's well
aware of the past controversies in the district regarding reconfiguration, the
high school renovation project and the sometimes faltering negotiations over
the teachers' contract.
How does he plan to deal with
that history as the new superintendent?
"It all
comes down to trust," he said. "It's my ability and the district's ability to
work with the community and all stakeholder groups so there's a mutual trust
and understanding. Trust is one of those things that takes time to build but
can be broken in an instant. Once it's broken, you have to start all over
again. Over time, we're going to work with stakeholder groups. We're going to
try to be true to not only our students in the district but to the community."
He said
the school program would reflect the will of the community.
Sanville,
in an interview a day before the tentative labor agreement was announced, said
he wouldn't call the situation with the teachers a controversy.
"I
wouldn't characterize that way…Having been in all the buildings, having seen
the entire staff, [no one] would know in any way, shape or form that the
teachers don't have a contract. They are approaching this year with a really
great spirit, with a high level of morale that is startling to me."
He said
his goals represent no big change from those of his predecessor, Sharon Parker.
"[She]
has really been a fantastic superintendent for the school district…I don't see
major changes in the direction that we're heading. We'll refine things, [but]
the key for us is to keep us on top."
Sanville
credits all of the district employees, not just Parker, as being instrumental
in making the district one of the best in the state.
"I don't
see us changing drastically our direction, but…the paradigm around us is
changing," he said.
That
paradigm change centers around the need to adapt to economic realities to stay
ahead of the curve to remain on top.
He was emphatic on one point:
"I want what's best for all of our students. I want to make sure we meet everyone's
needs and meet them where they are. That's the most important work that we do.
I want every parent, every community member and every student and staff member
to know that."
Sanville
— who's been the district's curriculum director for the middle and high schools,
and a principal at Marple Newtown High School — said he brings a lot to the
table that will enable him to do the job.
"I bring
a wealth of experiences. I'm a first generation American, born of World War II
heroes, courageous people. I was taught that it was better to do the right
thing than talk about it. I've held almost every position in education from
custodian to superintendent. I have an understanding of those positions in
their worth and importance that everyone in the organization has in making sure
that students are welcomed into a safe, welcoming environment so that they can
succeed."
He said
he's adept at building relationships and trust and thinks he can help heal old
wounds.
Sanville's
parents were British. His father was a pilot for the Royal Navy during the war
and was involved in the sinking of the German battleships Bismarck and Tirpitz.
His mother was bilingual and was parachuted into Nazi occupied France to work
with the French resistance.
"I always wanted to be a
teacher," he said, though he had some inspiration from one of his own teachers.
"Going back to elementary school I had a teacher who convinced me that going
into teaching was the right thing, that I should be a math teacher."
His career didn't quite follow
that track. Sanville wound up as a seventh-grade history teacher — after
beginning his career as a security guard. His job was to break up fights.
"I worked in a building that
had more assaults, student on student and student on staff than any other
school in Virginia. It was a crazy place and I did that job so well … that they
hired me as a social studies teacher."
From the classroom he became a
guidance counselor before getting into administration. He always had a desire
to develop and build himself professionally, he said, and the counseling gave
him an opportunity to work with students in different ways.
"That really opened my eyes to
the troubles that kids face outside the walls of a school," Sanville said.
Those experiences also allowed
him to observe other administrators, seeing what they did right and what, he
thought, they did wrong. Sanville said it was the experiences he had with
leaders who were lacking in the area of building relationships that led him to
getting into administration.
"I saw what a difference an administrator makes, not only in
the lives of the students but in the lives of the faculty and staff. I made the
transition from counseling to administration because I felt I could make a
difference in education that way…Based on certain principals and administrators
I've worked with over the years I became very clued into school climate."
Sanville offered an example of
what that means with a story about a snowy day in Virginia.
Eleven inches of snow fell on a
November day when no snow was expected. Students were kept late because there
was no way they could get home. A nearby military installation was ready to use
tanks to bring cots in case the kids had to remain at the school overnight.
School buses finally arrived at 11 p.m. The next day was a teachers' workday.
After getting the kids out
after 11, the principal got on the public address system to remind teachers
they had to be on time the next morning.
"It just struck me that wasn't
the best way to manage people," he said. "...There was a different way to
handle that situation. I look to leaders and their emotional intelligence in
how they build relationships and how they work with people. Everything is about
relationships, especially in education."
The new superintendent is
originally from Doyelstown, but received his degrees from schools in the
District of Columbia and Virginia. He earned his bachelor's from George
Washington University, his masters' from Virginia Tech and his doctorate from
the University of Virginia.
He went to high School at Central Bucks West, as did Chadds Ford Elementary School Principal Mark Ransford. Ransford was a year behind Sanville, but said, "We're in good hands."
Sanville, 46, is married for 16
years with no kids.
"We have dogs, though," he
said.
His wife, who is also an
educator, runs an animal rescue.
"We're always trying to find
homes for abandoned dogs," Sanville said.

Rich Schwartzman has been reporting on events in the greater Chadds Ford area since September 2001 when he became the founding editor of The Chadds Ford Post. In April 2009 he became managing editor of ChaddsFordLive. He is also an award-winning photographer.
Comments
comments