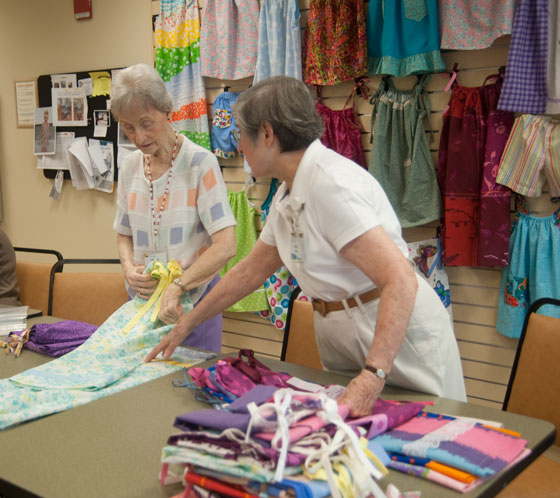 Sewing remains a big deal for a
group of women at Maris Grove retirement home, this time for a charitable
cause.
A group of 30 or so women are
turning pillowcases, drapes and other fabrics into clothing for the
organization Little Dresses for Africa. As the name implies, the garments —
both dresses and britches — go to orphanages in African countries, but also go
to South America and the Appalachian region here in the U.S. It's headquartered
in Michigan.
Maris Grove resident Judy
Baldwin started the local group after seeing a story on it on TV in February.
The women do the actual sewing
at home on their own, but meet once per month to talk about their projects and
how to grow the club.
"We've been very lucky so far.
We've had people carry [the garments] to Michigan unless we can find
organizations that are going into Africa go take them in because you can't just
ship them in because they get stolen," Baldwin said.
She was intrigued to get
involved because she's always had an interest in the children of Africa.
"I feel they are overlooked by
the world and I always wondered what I could do other than donating to UNICEF
or Doctors Without Borders," she said.
Baldwin said getting the group
started in Concord Township was something she could do to help make a little
bit of a difference.
Since February, they've made
one shipment of 45 garments to Africa, while a brother of one of the members
took another dozen to Appalachia.
"The big goal is to keep it
going," Baldwin said. "We've been talking about ways to expand…We may be small,
but we're passionate."
One member, Dottie Horan said
she likes being involved.
"I like to sew, so here I am,"
she said. "It's a fun project and we can let our imaginations run wild."
Mildred Gilfillan sees the end
result: "It's very worthwhile. We have people of our own who need it."

Rich Schwartzman has been reporting on events in the greater Chadds Ford area since September 2001 when he became the founding editor of The Chadds Ford Post. In April 2009 he became managing editor of ChaddsFordLive. He is also an award-winning photographer.
Comments
comments