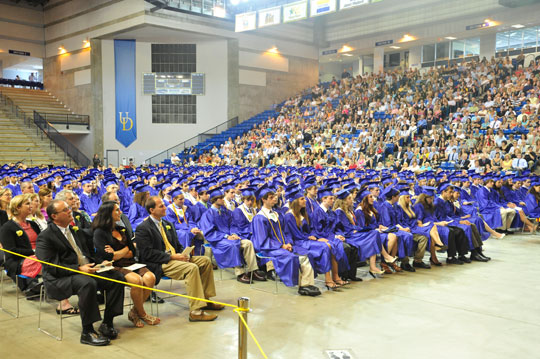 It was the final gathering for
Unionville High School seniors as seniors, and the final graduating class with
Sharon Parker as school superintendent.
Almost 360 blue-gowned seniors
received their diplomas during the ceremony held at the Carpenter Center on the
campus of the University of Delaware.
Parker's address was a
recollection of her own high school graduation where she invoked lyrics from
Billy Joel saying, "These are the times to remember," adding her own comment
that, "Most of the songs of your lifetime haven't been written yet."
She spoke of the fleeting
quality of youth, recalling a time when her hair was blonde, not gray, but
advised, "Part of you will always be 18."
She closed with lyrics from Bob
Dylan saying, "May you be forever young."
Parker's address dovetailed
with that of Principal Paula Massanari who spoke of the "priceless and
bittersweet" aspect of graduation.
She told students that their
education had been priceless and that their future memories—especially those of
leaving Unionville— will be bittersweet.
"Isn't there a teacher you'll
never forget, one you'll tell your children and grandchildren about?"
Graduating senior Savvy Leiser,
daughter of School Board Director Jeff Leiser, recalled her travels through
school years through the letters students had to write in middle school,
letters that spoke of early teen expectations.
"Some…were a little
far-fetched," she said. "For one thing, I wrote that by graduation I would own
a DeLorean."
The reference was to a car in a
favorite movie, "Back to the Future," and how things have changed in just a
handful of years.
In reflecting on that letter,
she said it indicated how good her education had been since it allowed her—and
her classmates—the opportunity to improve themselves.
"How much better are we now
than the people we used to be?"
Another student speaker was
Kacey Ward Stewart. Stewart wasn't so much a speaker as a performer. After a
few opening remarks, he doffed the cap and gown and took up a guitar and
harmonica and sang an original song about "The best coming from Unionville."
Another student speaker, Max
Berger, summed up his experiences saying he wants his future children to grow
up in a community such as Unionville.

Rich Schwartzman has been reporting on events in the greater Chadds Ford area since September 2001 when he became the founding editor of The Chadds Ford Post. In April 2009 he became managing editor of ChaddsFordLive. He is also an award-winning photographer.
Comments
comments