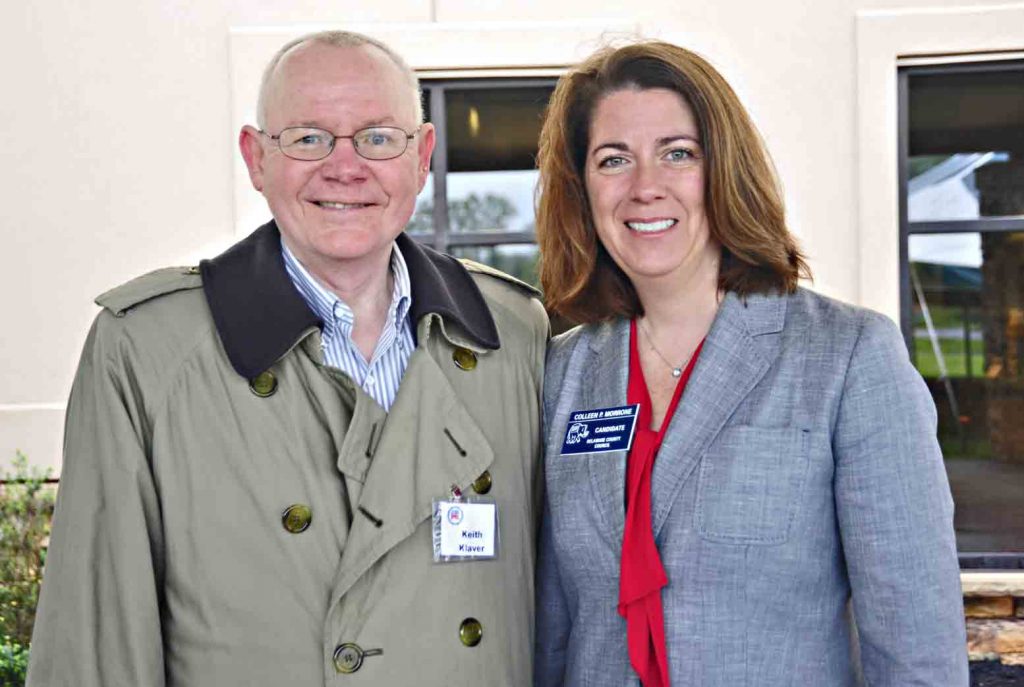 The names were familiar to
some, but it was the first time they showed up on a ballot in Chadds Ford
Township. Keith Klaver and Colleen Morrone earned the Republican Party
nominations for township supervisor and county council during the May 17
primary election.
Klaver, a 10-year resident of
Chadds Ford, has been involved with the township for six years as a member of
the Financial Advisory Board, chairman of the Sewer Authority, and currently
filling in on the Planning Commission.
This is his first time running
for public office. With no Democratic Party candidate for supervisor, Klaver
will earn the supervisors' seat being vacated by Garry Paul. He said he doesn't
intend to get too comfortable in that seat.
"This will be my first and my
last election. I am not a politician nor am I planning to be anything other
than one and done," he said. "I feel quite strongly that the opportunity to
work in a public arena, such as township supervisor, would be an honor. At the
same time I think it should be an honor that's shared by many in the community.
That's why I would look at only one term."
Klaver, a former partner with
Price Waterhouse, thinks there are three areas that need to be addressed when
the new board sits in January.
He wants to focus on the health
and safety of the community and continue with fiscal prudence. Another area of
his concerned is the respect for property ownership.
He said there is a difficult
balance between the rights of property ownership and the rights of all
residents of the township.
Morrone is in her second term
as a current Concord Township supervisor, but she's new to voters in Chadds
Ford. She and two other Republicans—John McBlain and Thomas McGarrigle—earned
their party's nominations for the three Delaware County Council seats that will
be on the November ballot.
They will face Democrats Keith
Collins, Lin Axamethy Floyd and Jayne Young.
Being on council, she said,
"[It] would be an opportunity to take the experience that I've had at the
township level and take it up to the county level, and get more involved in the
services that are offered."
She said she wanted to look at
the various ways the county can serve the residents. She hinted at one specific
service she wants to look into.
"A lot of the work I do during
the day is centered around people, finding jobs, and I'd like to utilize that
experience," she said.
Morrone is the chief mission
officer for Goodwill of Delaware and Delaware County.
Also unopposed in the Chadds
Ford primary was Joe Pileggi for auditor.

Rich Schwartzman has been reporting on events in the greater Chadds Ford area since September 2001 when he became the founding editor of The Chadds Ford Post. In April 2009 he became managing editor of ChaddsFordLive. He is also an award-winning photographer.
Comments
comments