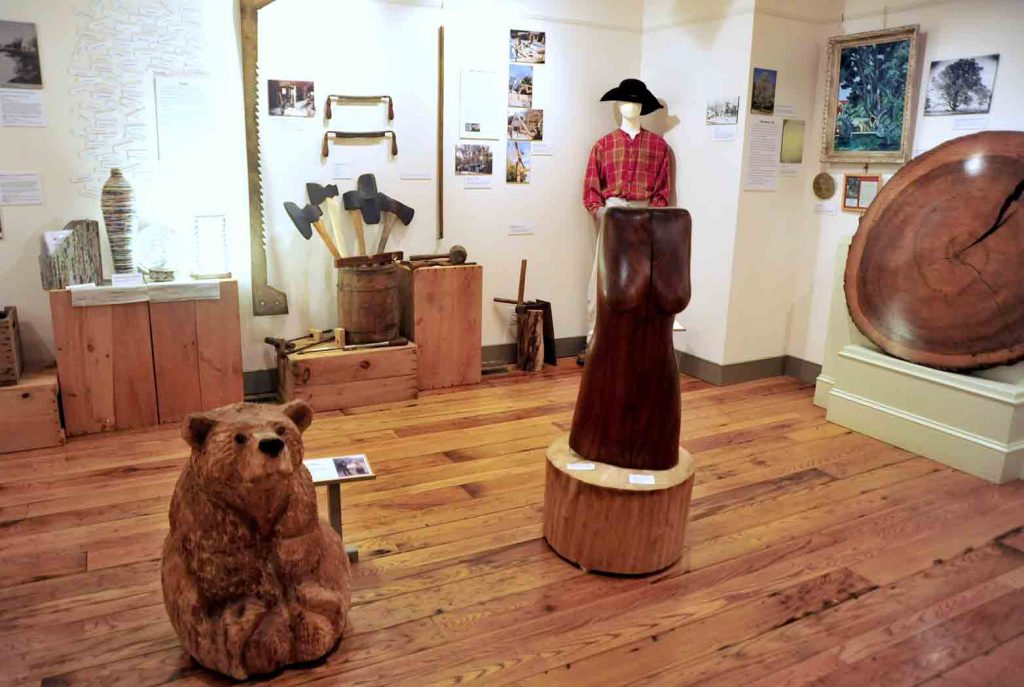 If it's May, it must be time
for a new display at the Chadds Ford Historical Society. On May 20, CFHS did
open a new exhibit, "Wood, Woods & Wood Workers."
There's a bear carved with a
chainsaw on display, a headless nude, a four-foot diameter slice from a
165-foot tall tulip poplar that came down during a 1938 storm in Westtown and a
variety of photos, axes and saws.
Sallie Corbishley, the curator
for the exhibit, said the reason for the display is simple: "They always grow."
Not only do trees grow, so did
the idea. The original idea was to do something about wood furniture, she said,
but it morphed into wood and woodworking.
What captivated Corbishley on
the idea was also simple: "We have a lot of trees around here."
"When you start thinking about
the variety of trees, when you start thinking that when William Penn arrived,
Pennsylvania was 98 percent forest and the settlers, who were afraid of the trees,
had to work like bloody blazes to clear the land if they wanted to farm. Trees
have provided everything that anybody ever needed from time immemorial," she
said. "They're really important."
She said trees and wood have
been used for everything from heating homes to building fences and tools, but
two things were unique to the Chadds Ford area.
One was the industrial use of
charcoal because the DuPont Co. was making gunpowder. Many farmers in the area
provided the willow branches for the charcoal used in the gunpowder-making
process.
The other unique factor was the
big Dilworthtown oak that was used to hang British soldiers.
That tree came down in the late
1980s. It was about 350 years old, Corbishley added.
"Wood, Woods & Wood
Workers" is sponsored by Chadds Ford Tree Service and runs through Dec. 3.

Rich Schwartzman has been reporting on events in the greater Chadds Ford area since September 2001 when he became the founding editor of The Chadds Ford Post. In April 2009 he became managing editor of ChaddsFordLive. He is also an award-winning photographer.
Comments
comments