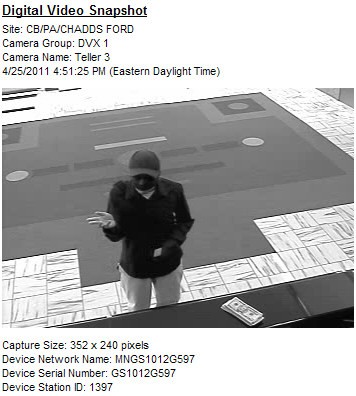 Pennsylvania State Police from Troop K, Media barracks, are looking for a white or Asian male, 5 feet 2 inches to 5 feet 6 inches tall with a thin build, in connection with a robbery at the TD Bank at Route 202 and Beaver Valley Road. The robbery happened shortly before 5 p.m. on April 25.
The suspect was wearing a black jacket, tan pants, black shoes, a black hat and had his face covered with a black cloth, police said. He fled west on Beaver Valley Road into the Johnson Farm Lane apartment complex with an undisclosed amount of U.S. currency.
Anyone at Johnson Farm Lane apartments who saw someone matching this description or anyone with information, please contact Trooper John O'Donnellat 484-840-1000.
Pennsylvania State Police have charged Jeffrey Charles Ruth, 22, of Brookhaven, with forgery, access device fraud and theft in connection with adding charges to credit cards of patrons at Carrabba's Restaurant in Chadds Ford Township between April 1 and 21. restaurant management is looking to see if other patrons were affected, a police report said.
A Claymont man was charged with DUI following a traffic stop on Route 202 near the Delaware state line, a police report said. According to the report, David Bruce Annal was observed weaving in and out of his traffic lane among other violations at 1:22 a.m. on April 24.

See Contributors Page https://chaddsfordlive.com/writers/
Comments
comments