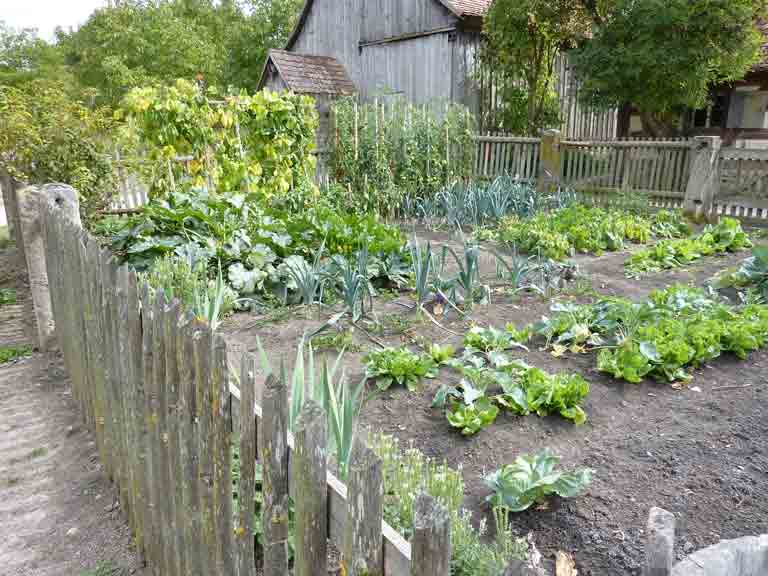 The list of reasons for growing your own vegetables seems to get longer every day. Between worries about food safety, concerns over the economy, and the desire to be more environmentally responsible, many people have decided to take the plunge. Having your own vegetable garden can be fun, economical, and rewarding. Plus, it will save you embarrassment should a teacher ask your child where tomatoes come from and get an answer like: "Um, Acme?"
Here are some questions to ask to set you on the right path to a successful vegetable garden:
1. Do you have a good location?
Vegetables need sun—lots of sun. Except for lettuces and a few other greens that can squeak by with less, vegetables need at least 6 hours of sun per day at a minimum. Less than that and you will be fighting an uphill battle. A level spot will also save you a lot of grief. Yes, you can grow vegetables on a slope, but it's a lot harder and will require more water, so why not make it easy on yourself and find a nice, sunny, flat spot? Speaking of water, you will want a source of water nearby. The first time you try lugging two full watering cans to a distant location, only to realize you're going to have to make about 5 more trips to water the garden properly, you will realize your mistake. Plant the garden within reach of a hose.
2. Who will maintain it?
Before putting the first shovel in the ground, stop and ask this essential question. Kids (and spouses) can be very enthusiastic when it comes to studying the seed catalogs, figuring out what to plant, and imagining the joys of a freshly dug potato, but less so when it comes to weeding on a 98° day, picking off tomato hornworms, or cleaning up debris in the fall.
3. How will you keep the deer out?
In most neighborhoods in our area, deer are a constant presence. If this is the case in your yard, plan ahead to protect your harvest or you may discover you have just created a deer salad bar. Fencing is usually the best solution for a vegetable garden, which is usually more contained than a landscape garden. If you use raised beds (well worth considering) you can attach posts to the corners and wrap netting around them to discourage deer.
4. Have you tested your soil?
Before you plant, make sure you know what kind of soil you have (Penn State Extension offers soil tests with a full professional lab report for just $9) and what you need to do to make it suitable for growing vegetables. In this area, soil is often more acid than most vegetables like, so you may have to add lime (if you do, Penn State will not only tell you, but will tell you how much to add). You may also need to add other nutrients or organic matter. The time to find all this out is before you plant. You may also want to consider creating a raised bed. Raised beds are made by building a frame from wood, stone, or other materials and filling it with prepared soil. This allows you to provide good soil, rather than be stuck with what you happen to have in the ground.
5. What do you and your family like to eat?
Don't feel you have to plant tomatoes if you don't like tomatoes. And if you don't absolutely adore zucchini, don't plant more than one or two plants. Take the time to think about what you like to eat and how much of it you are willing to eat (or freeze, or can, or give away). Consider the growing season as well. Lettuce, which can be planted now and again in late summer, grows only in cool weather so you can grow something else in its place during the summer. The winter squashes, including pumpkins, require a long time to grow, so no matter how many types you plant, you will be probably harvesting them all around the same time (in the late summer or fall), so it makes sense to plant some summer squashes as well. (Unless you don't like squash at all, and then I weep for you.)
6. Are you going overboard?
Not that you would ever do this, but some other people tend to get overly excited and start out by planting a 100' by 100' garden with dozens of different vegetables. They throw in all sorts of unusual ones, including vegetables they've never heard of, let alone tasted. They throw in plants that are tricky to grow because they like a challenge. Can you see where I'm going here? Don't do it! Start small, choose common, easy-to-grow vegetables that your family likes, and see whether you enjoy being a vegetable gardener. Enjoy your simple, manageable garden. You can always expand next year when you're an experienced vegetable grower!
Here's a good resource from the Maryland Master Gardeners on starting a vegetable garden: http://www.growit.umd.edu/Gardening%20Basics/index.cfm
Learn more about gardening at the Master Gardener garden fair on April 30th 10am-3pm at the 4-H Romano Center, 1841 Horseshoe Pike (Rt. 322) in Honey Brook. There will be workshops, demonstrations, games, a plant and book sale, food, and lots more. http://chester.extension.psu.edu/horticulture/master%20gardener/mg%20edeventgardening101.pdf
Become a fan of "Chester County Master Gardeners" on Facebook!
* Nancy Sakaduski is the Chester County Master Gardener Coordinator. Master Gardeners are trained volunteers who educate the public on gardening and horticultural issues. In Chester County, they operate through the Penn State Cooperative Extension office in West Chester. Nancy lives in Pennsbury Township. She can be reached at nds13@psu.edu.

Nancy Sakaduski is a Master Gardiner with Penn State Extension of Chester County.
Comments
comments