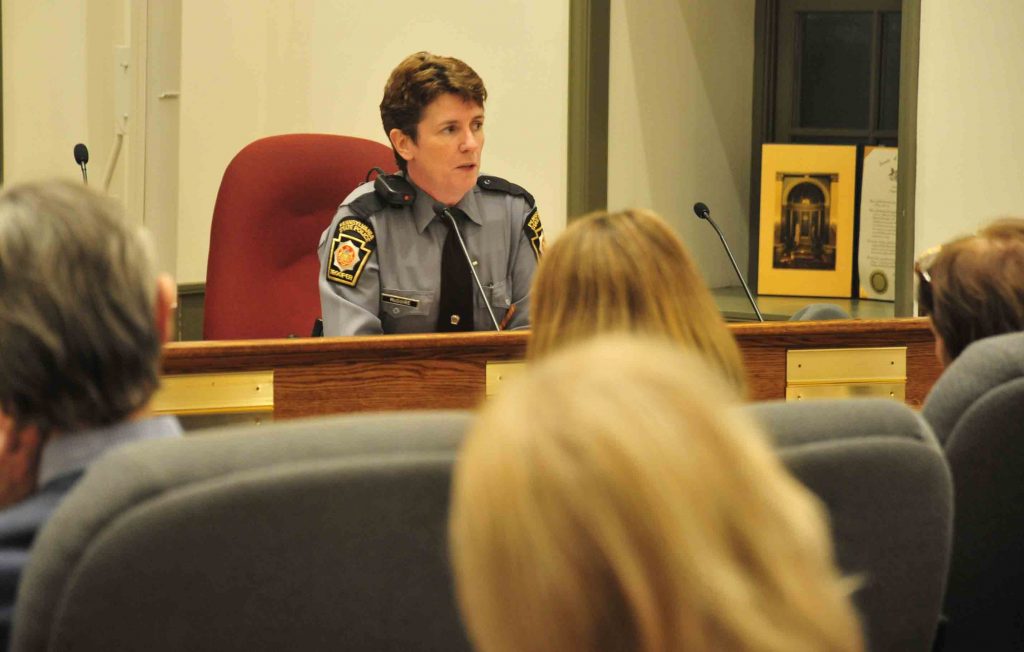 It was standing room only at the Chadds Ford Township
municipal building as residents were reminded of some basic truths: Lock your
door, use the security alarm and call police whenever you see something you
think is suspicious.
The township and the Chadds Ford Civic Association
co-sponsored the security meeting. It was prompted by a series of burglaries in
the area last spring and summer.
Chairing the event was Chadds Ford resident Vince Del Rossi
whose home was burglarized in May. Speakers included fellow Chadds Ford
residents Phil Wenrich, a state constable, Polly Teti, a detective with the
Tredyffrin Township Police and Joe Barakat, the township manager and emergency
management coordinator.
Also speaking was Tpr. Rosemary McGuire from the
Pennsylvania State Police.
The three law enforcement personnel each shared the same
basic message of keeping doors locked, using home security alarms and calling
police whenever in doubt of safety.
Wenrich also presented a video demonstrating that burglaries
only need six seconds to break into a garage by tripping the emergency release
with a small block of wood and a coat hanger.
He and Teti also spoke of the need to have homes properly
illuminated at night.
"Murders and rapes can happen even in Chadds Ford," Wenrich
said.
He showed photos of his own home illuminated with "a couple
hundred dollars of equipment and for only $18 per month of electricity."
Teti said most burglars want to avoid confrontation and
would prefer hitting a house that's dark.
"Make them want to go to someone else's house, not yours,"
Teti said.
Teti also said most burglaries happen during the day and
that people should be suspicious of everyone who comes onto the property if they
don't know them.
McGuire began her comments reminding residents, "You live in
a safe community."
She added, though, that criminals do come into the area.
Most of the calls state police respond to in Chadds Ford,
however, are security false alarms caused by homeowners themselves. Troopers
responded to 331 of them last year and 93 in the last three months, she said. Only
one false alarm in the last three months was not the homeowner's fault.
However, she went on to caution people to be wary of people
coming onto their property. She also reiterated Wenrich's advise of keeping the
home properly lit at night. McGuire said she has five motion detector lights on
her own home.
Troopers also respond to many calls involving thefts from
vehicles.
"Don't leave anything of value in sight," she said.
McGuire, the community service and public information
officer from Troop K, Media, also advised people to get to know their
neighbors, to talk to them and watch out for one another.
Barakat began the presentations showing a video on preparing
for emergencies. It informed people of a three-step approach to stock an
emergency kit, make plans and be informed about the types of emergencies. The
video can be found online at www.ready.gov/

Rich Schwartzman has been reporting on events in the greater Chadds Ford area since September 2001 when he became the founding editor of The Chadds Ford Post. In April 2009 he became managing editor of ChaddsFordLive. He is also an award-winning photographer.
Comments
comments