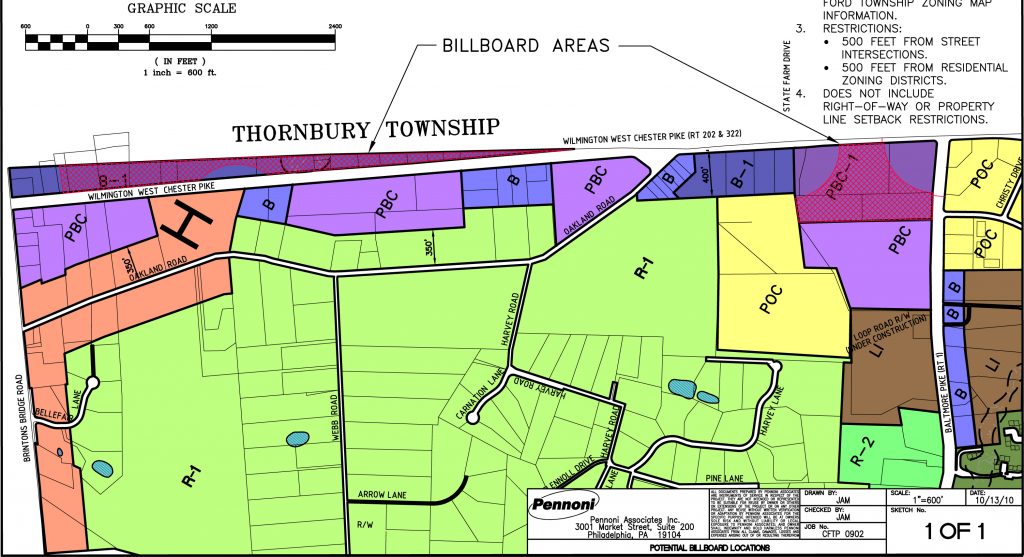 Acting on the advice of its solicitor, Chadds Ford Township
is considering amending its sign ordinance to allow the limited use of
billboards in the township.
Solicitor Hugh Donaghue told members of the Planning
Commission during its Oct. 13 meeting that case law requires municipalities
provide for the use of the large advertising signs. He said there has been a
lot of litigation in the eastern part of Delaware County, specifically in
Springfield and Haverford townships, with respect to billboards and their
proliferation.
"One of the dangers, if you do not provide for billboard
location, your decisions may be subject to challenge and you may end up with
billboards being located in areas you certainly would not like to have
billboards located," Donaghue said.
He said those areas could be residential areas and by the
Brandywine Battlefield Park.
The commissioners reviewed a draft of the amended ordinance
and voted to send it on to the Board of Supervisors.
That ordinance considers two locations for the signs. One
location is in the PBC 1 zoning district at Painters Crossing. The other location
is in the B 1 district along the east side of Route 202 between Oakland Road
and Brinton's Bridge Road.
Restrictions, however, may eliminate the second site.
Billboards can't be any closer than 500 feet from a residential district and
that strip along Route 202 would put the large signs within 500 feet of
residences in Thornbury Township.
Planning Commission Chairman Craig Huffman said Chadds Ford
would be acting as a good neighbor by keeping the signs away from there.
Township engineer Joe Mastronardo said that other
restrictions require billboards be set back from a roadway by at least the
height of the sign and the signs may be no larger than 240 square feet.
Mastronardo said that, under the provisions, three signs
could fit on the B 1 site on Route 202 (if it remains one of the locations) and
one, maybe two signs at the Painters Crossing PBC 1 site.
The draft ordinance must go to the Delaware County Planning
Commission 30 days before the township supervisors can hold a hearing for the
ordinance, according to township manager Joe Barakat.

Rich Schwartzman has been reporting on events in the greater Chadds Ford area since September 2001 when he became the founding editor of The Chadds Ford Post. In April 2009 he became managing editor of ChaddsFordLive. He is also an award-winning photographer.
Comments
comments