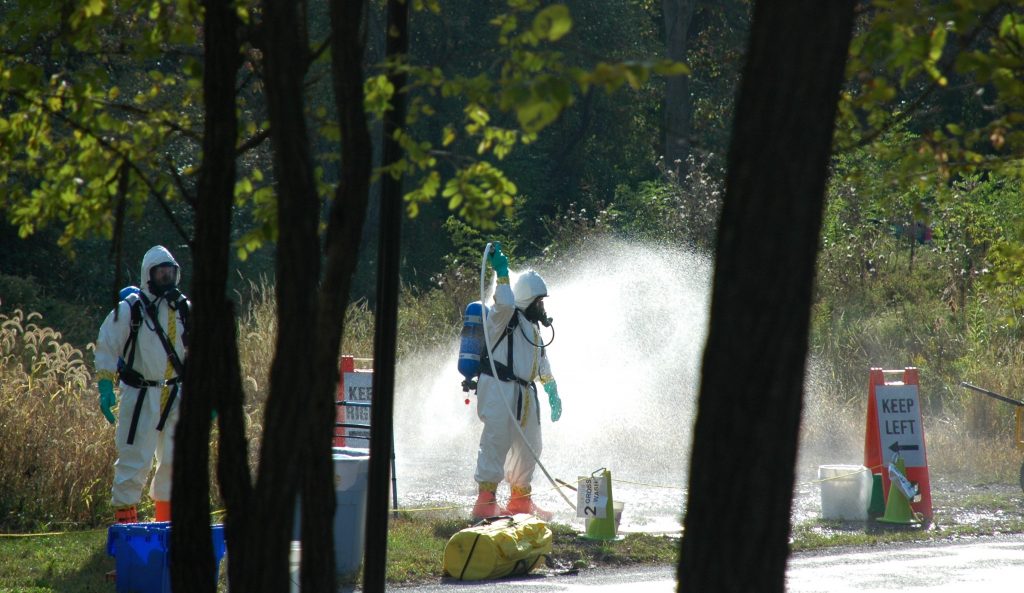 Chester County Hazardous Materials personnel, Pennsylvania
State Police and members of Longwood Fire Co. responded to what police said at
the time was a hazardous materials incident in Pennsbury Township Monday.
Unconfirmed rumors indicate a body was found in a car with a note advising
people not to open the door because of hazardous chemicals inside.
Hillendale Road was closed for hours during the
investigation—beginning at about 1 p.m.—and some school buses taking students
back home had to be rerouted.
Police and fire officials declined comment until the
investigation was finished, but several neighbors in the area said a resident
was taking a walk and noticed a vehicle in the field across from Virginia
Place. When the resident approached, he saw a body inside as well as some
containers marked as hazardous materials.
Police would neither confirm nor deny the account, but the
area was cordoned off and a representative from the County Coroner's office was
on the scene.
Members of the Chester County Hazmat unit, in safety suits,
entered the area and hosed themselves off after getting back to the street.
About 3:30 p.m. a strong sulfur odor drifted up from the
area, across Hillendale Road and through Virginia Place. Residents remained in
the area.
The Philadelphia Inquirer is reporting that a Chester County
EMS spokesperson said the department received a call about 12:30 p.m. that
someone committed "chemical suicide."
ChaddsFordLive.com will update this story as more
information becomes available.
Update: Late Monday
night, Oct. 11 state police confirmed that the body of a 30-year-old white male
from Kennett Square was found inside the vehicle along with potentially toxic
chemicals. The investigation is continuing.
Update 2: Though the chemicals used in the incident have not been named, it is believed they were a combination of household items that, when combined, make hydrogen sulfide. Suicides using homemade hydrogen sulfide were reported in Japan in 2008. The manner of suicide has been used in other counties surrounding Philadelphia.


Rich Schwartzman has been reporting on events in the greater Chadds Ford area since September 2001 when he became the founding editor of The Chadds Ford Post. In April 2009 he became managing editor of ChaddsFordLive. He is also an award-winning photographer.
Comments
comments