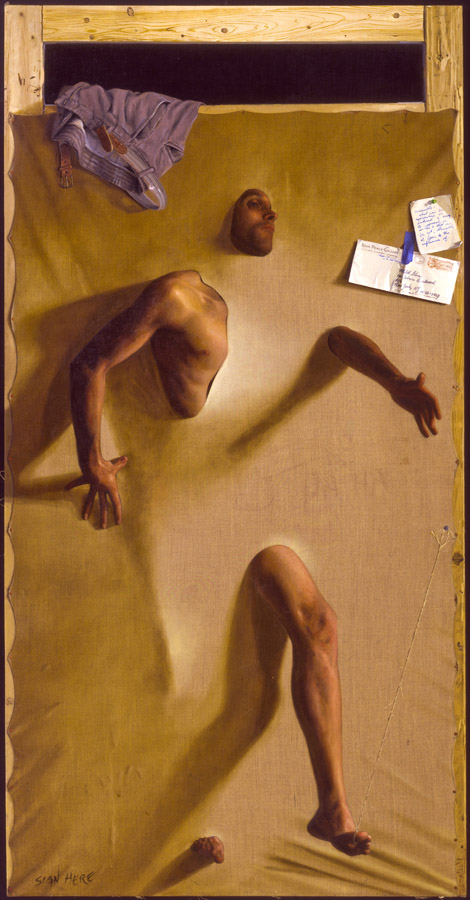 The art form may be old, but the exhibit at the Brandywine
River Museum is fresh and new. The exhibit is entitled Reality Check: Contemporary
American Trompe l'Oeiland it
features the work of 22 contemporary American artists.
To those artists, the form is both challenging and fun.
"There is that fun novelty to trompe l'oeil. There's the challenge and the play with illusion in trompe l'oeil that's a lot of fun. I
enjoy it a lot," said Kennett Square artist Robert C. Jackson who was on hand
for the Sept. 10 opening reception.
Echoing the thought was Gary Erbe of New Jersey.
"It's a great vehicle for expressing ideas. I felt it was a
school of painting that I felt I could inject some originality into and make it
very contemporary and very personal. It's very challenging, but can also be
very inventive and very creative," Erbe said.
Fun and creativity may not be the sole reasons for trompe l'oeilbut, according to museum
Executive Director Jim Duff, fun and humor are often obvious.
"With trompe l'oeil,
you're looking at a purposeful intent to fool someone… You can see that
ingredient is these paintings because you see that the objects are intended to
project, to cause shadows to do things that only actual objects can do, that
paintings can't otherwise do. …In many cases it is designed to be humorous. Of
you look around this gallery you can see how humorous some of this is," Duff
said.
The works shown in Reality Check demonstrate a "high degree
of technical mastery and entice viewers to become immersed in the act of
looking, drawing them in with the trickery and deception inherent in trompe l'oeil,"a museum press release
said.
Pieces on exhibit included Emergence by Mikel Glass,
depicting various body parts emerging through a large sheet of brown wrapping
paper, and Three Pieces by Scott Fraser showing a beetle on a piece of sheet
music. Each artist used shadows to give a three-dimensional quality to the
work.
Reality Check: Contemporary American Trompe l'Oeilruns through Nov. 11.

Rich Schwartzman has been reporting on events in the greater Chadds Ford area since September 2001 when he became the founding editor of The Chadds Ford Post. In April 2009 he became managing editor of ChaddsFordLive. He is also an award-winning photographer.
Comments
comments