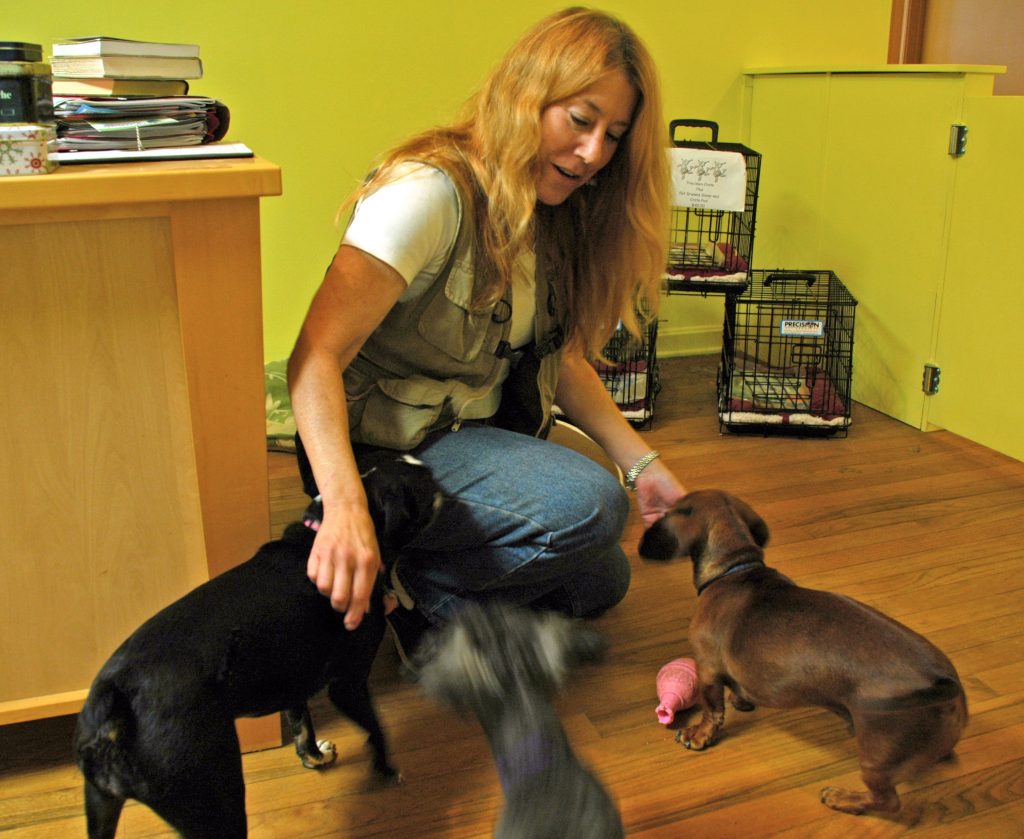 Jane Brydon saw a specific need and chose to fill it. That need is
daycare and boarding for small dogs, 20 pounds and under.
Brydon, a certified dog trainer working professionally for six
years, opened The Cottage Small Dog Daycare at 3 Woodland Drive in Chadds Ford
Township two months ago. She's been in the location for four months, she said,
but couldn't open for business until the dog warden inspected the site and gave
approval.
On site is Brydon's office that doubles as the main daycare area,
rooms for the indoor kennel, a kitchen, an indoor playroom with a padded floor,
and an indoor potty area—boxes with drawers and fake grass—for use during
inclement weather. There is also a fenced outdoor area with a sand box and
small wading pool to keep the dogs cool during the summer heat.
"They like that. I have float toys in there for them," Brydon
said. "They like to jump in and play."
There is also a training academy in the basement of the property.
Brydon said she chose to focus on the smaller dogs because they
have special needs.
"I wasn't seeing specialized doggy daycare to care for the little
guys…a safe place for little dogs to go so they had a place when their parents
work long hours or their families were busy," she said.
One of the special needs of the smaller dogs is that they have
more difficulty being housebroken, Brydon said.
"They have a lot of issues with housetraining. I don't know why, I
just know it's true," Brydon said. "It's unfortunate for people who love little
dogs. I thought I was the queen of the housetrainers, but I always had big dogs
(Rottweilers and bull terriers) and I would housetrain a dog in three weeks…
Then I got Gracie (a Chihuahua/Jack Russell mix) and she humbled me."
She still doesn't understand why the smaller dogs have the
difficulty, but said they require greater watchfulness and awareness in
training to go outside, instead of in the house.
"You really have to be on the top of your game to housetrain a
little dog," she said.
Brydon said she has an undergraduate degree in animal behavior two
master's degrees in elementary education and another in psycho-educational
processes.
While the advanced degrees relate to humans, Brydon said it's all
about learning.
"The truth of the matter is, I train humans. … If people go away,
I board and train, then train the people when they get back," Brydon said.
As a trainer who also goes to a client's home, Brydon said she
likes to work with the whole family so even the kids get involved in the
training process. She said the style is hands on, that she always leaves
handouts, and wants people to call her with questions.
"I train people to communicate with their own dog," she said.
"It's all about communication. It's like having a little Martian in the
house…It's two different worlds."
She calls herself a "positive rewards based dog trainer." Instead
of punishing the dog for doing things wrong, she said, you train a dog to do
the correct behavior and then continue to reward the animal for doing it
right," she said.
Brydon is getting most of her clients through word of mouth and
the Internet. Her Web site is www.mydogtrainingcoach.com
and she can be reached via e-mail at jane@mydogtrainingcoach.com. Her
phone number is 484-437-8183. She is a member of Association of Pet Dog
Trainers and Dog Writers Association of America.

Rich Schwartzman has been reporting on events in the greater Chadds Ford area since September 2001 when he became the founding editor of The Chadds Ford Post. In April 2009 he became managing editor of ChaddsFordLive. He is also an award-winning photographer.
Comments
comments