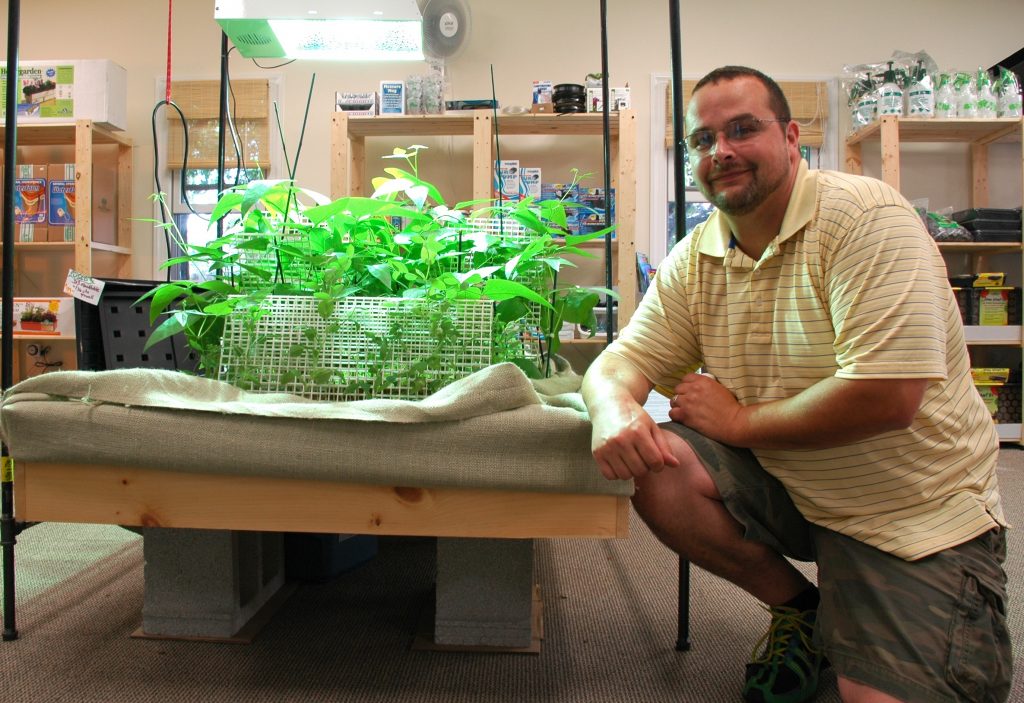 Gardeners interested in hydroponics now have a new supply
shop in the area and they owe it all to a motorcycle accident.
Buds to Blooms Garden and Supply Co., specializing in
organic and hydroponic gardening, opened its doors in June at Phillips Place on
Route 1 in East Marlborough Township behind Spring Run Natural Foods.
Owner Rob Chandler was a truck driver until he had an
accident on his motorcycle in October, 2008.
"I could have been killed," he said. "My head cracked the
windshield [of the car that hit him] like a baseball would have."
His head was OK, but the bones in his right forearm were
crushed. He went through a half dozen surgeries and a long recovery. While
convalescing at home he spent a lot of time watching TV, especially HGTV.
That's when he became interested in hydroponics.
At the urging of his wife, Chandler started a garden at his
Kennett Square home and found the work helped him rehab his injured arm,
restoring dexterity to his hand.
Hydroponics is described as growing plants with a nutrient
rich solution in water using an inert medium instead of soil. Common inert
materials are perlite,
gravel, mineral wool and coconut
husk.
"It's the future of gardening," Chandler said. "What we have
in the store poses another option [to traditional gardening.] It brings your
food production home to you, makes you your quality control department. It
makes you your [own] grower."
He said any type of plant can be grown hydroponically, even
vegetables that grow below the surface such as carrots and potatoes though he
said he doesn't focus on those.
Hydroponics allows for more growth than traditional
gardening and in a smaller space.
"It allows you to grow your favorite crop—whether it's a
sweet tomato or real aromatic basil—faster. You have more flower sites. You
produce more fruit in a shorter amount of time in smaller spaces," he said.
The reason for the more efficient growth, he said, is due to
the fact that plants receive their nutrients in a more pure form.
"The soil, when you grow outside, seems to get in the way
because there's so many other things in your soil. Plants need three things,
phosphates, nitrates and potassium. When there are things blocking those
reactions, the plant struggles to grow. When you do it hydroponically, there's
nothing in the way. You get a higher yield in a smaller space," Chandler said.
Research in growing plants without soil dates back to the
1600s and, according to Wikipedia, it was found in the 1800s that plants absorb
mineral nutrients through water directly, that soil acted only as a reservoir
for nutrients and wasn't needed for plant growth when plants absorbed nutrients
directly from the water supply.
Another advantage of needing less space with hydroponic
gardening is that people can grow food indoors, Chandler said, which allows for
a year-long growing season.
His first garden, while rehabbing, was indoors and he
learned how easy it was to grow things such as basil and tomatoes.
"We realized we could grow a five-foot tomato plant putting
out fruits every other week in a three-inch pot," he said.
Chandler added that there were no problems, no tomato worms
and no bugs.
Hydroponic gardening can also be done outdoors, he said.
Chandler and others move some gardens outside in the spring to take advantage
of sunlight.
The shop sells garden stations, organic fertilizers, the inert
material and other items needed for the home hydroponic gardener and Buds to
Blooms will be the go to site for teachers from C.F. Patton Middle School when
they start their greenhouse using the money they received from three grants, he
said.
Buds to Blooms is open seven days per week, 10 a.m.-6 p.m.
Monday through Thursday, 10 a.m.-8 Friday, 9 a.m.-4 p.m. Saturday and 10 a.m.-2
p.m. on Sunday.

Rich Schwartzman has been reporting on events in the greater Chadds Ford area since September 2001 when he became the founding editor of The Chadds Ford Post. In April 2009 he became managing editor of ChaddsFordLive. He is also an award-winning photographer.
Comments
comments