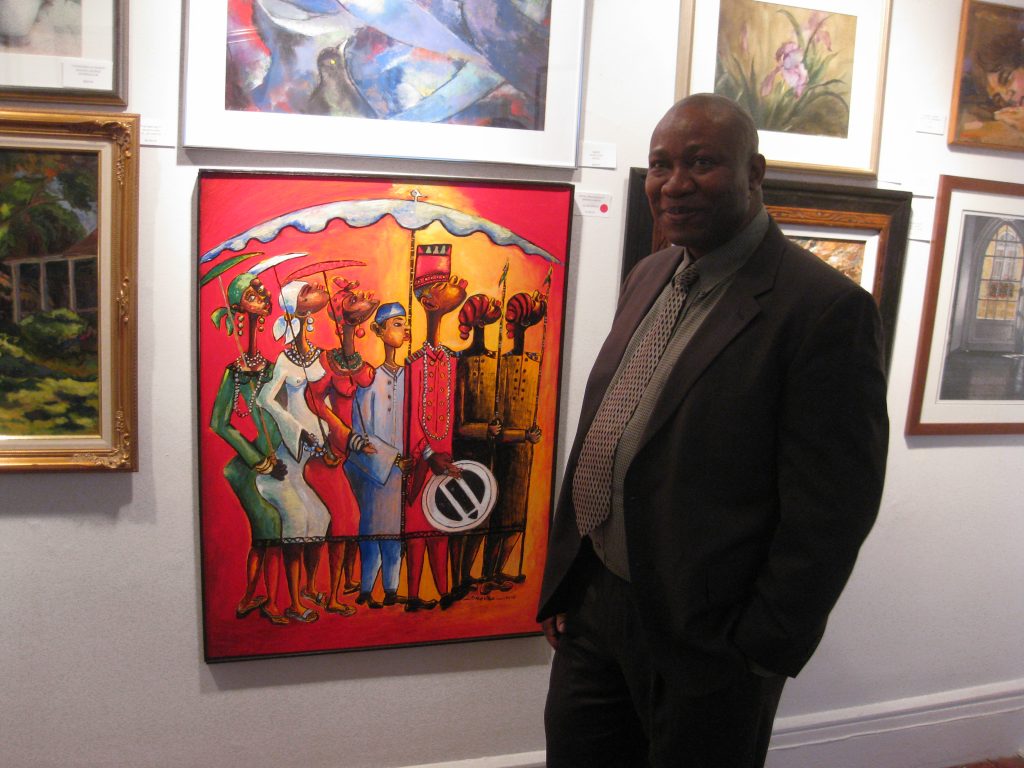 The "Introductions" show at the Chadds Ford Gallery was re-introduced
last Friday for those who missed the original opening because of the
snowstorm during the original opening in February. Featured were
Hispanic, African American, and Asian artists. Residents and artists
mingled, mused at the artwork while enjoying the hors d'oeuvres for
which the gallery openings are known.
The artwork colors and media were diverse. The bright colors of Omenihu
Amachi were inspired by the butterflies of his childhood in Nigeria. Tzu
Wen Kwok displayed stichery paintings on paper. Ching Lin's art is
described as stitchery and painting on silk. An arresting papier maché
sculpture appeared to be climbing out of the wall. Abstract mixed media
was shown by James Newton. The exhibit open until Sunday March 28.
The member reception at the Brandywine River Museum was also held Friday
night for the new show "N. C. Wyeth and the Philadelphia Sketch Club"
which runs through May 23. The parking lot at the Museum and at the
Brandywine Prime were filled as people enjoyed art and repast. Downtown
Chadds Ford was buzzing.

Emily Myers has lived and worked in Chadds Ford for over thirty five years.  She founded the parent company of Chadds Ford Live, Decision Design Research, Inc., in 1982.  ChaddsFordLive.com represents the confluence of Myers' long time, deep involvement in technology and community. Myers was a founding member of the Chadds Ford Business Association and currently serves on its board of directors.  Her hobbies include bridge, golf, photography and Tai Chi. She lives with her husband, Jim Lebedda, in Chadds Ford Township.
Comments
comments