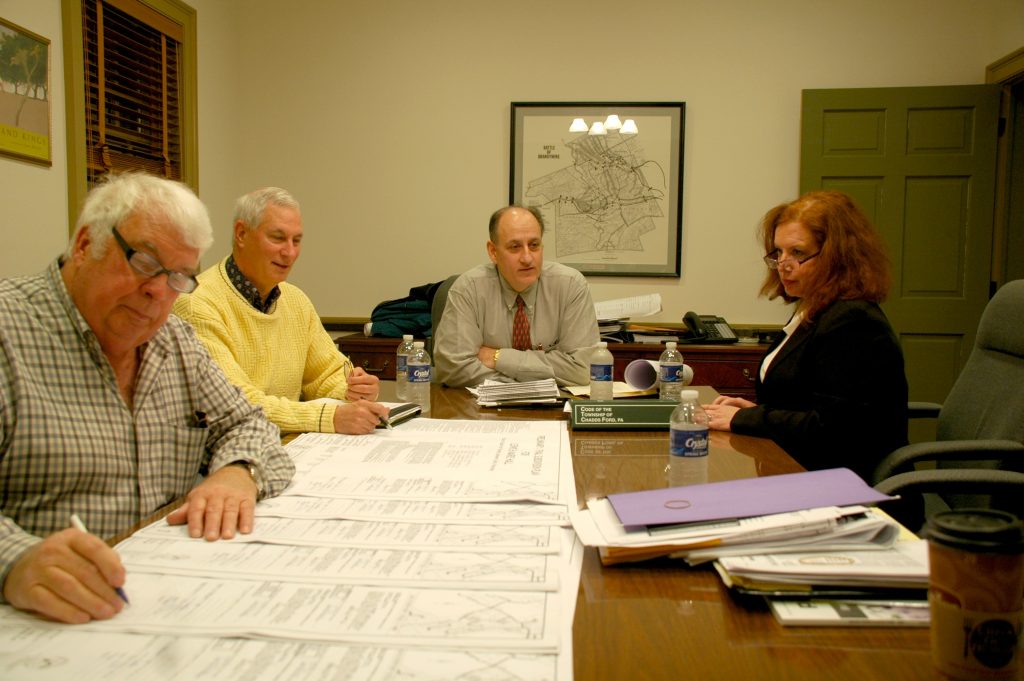 Chadds Ford Township supervisors held their first public
workshop, but no residents attended the 5:30 p.m. session. It was held in the
conference room at the township building.
The workshops were announced during the Jan. 4
organizational meeting. Supervisors' Chairman Deborah Love said she hopes that
having the workshops will help streamline the regular monthly meetings.
Supervisors use the workshops to review a possible agenda
for the regular meeting, and to get an idea of what each of them think about a
certain agenda item, but there is no voting during the workshops.
During the Jan. 25 workshop, all three supervisors, along
with Township Manager Joe Barakat and engineer Joe Mastronardo reviewed the
facts concerning two conditional use hearings scheduled for 6 p.m. before the
Monday, Feb. 1 regular meeting. Those hearings concern possible auto sales at
Jack Heilman's car service center on Route 202 at Dilworthtown Road and a
cellular service tower for Metro PCS.
Supervisors will also consider extending the temporary sign
ordinance for 2010 during that February meeting, but revisit it again in March
after talking with business owners.
Love said people have not been getting the permits for those
temporary signs and don't know the rules.
The temporary sign ordinance went into effect in early 2009
to help businesses advertise during the economic downturn.
Supervisors will also consider appointing a Planning
Commission member to the Historical and Architectural Review Board and a deputy
zoning and code enforcement officer.
Also planned for discussion is a review of the
recommendations made by a Civic Association task force regarding a USDA study
and controlled deer hunt to reduce incidents of Lyme disease in the township.
The study will cost an estimated $8,000 and Supervisor Garry
Paul said during the workshop that he would like to interview someone from the
USDA before committing to an expensive study, and then possibly make a decision
during the March supervisors' meeting.
"We need to find the magnitude of the problem … what's
involved in the study. … We want people to know we're willing to go the next
step in getting the right information," Paul said.
The regular February supervisors' meeting was moved from
Wednesday, Feb. 3 to Monday, Feb. 1 to accommodate the travel schedule of
Supervisor George Thorpe.

Rich Schwartzman has been reporting on events in the greater Chadds Ford area since September 2001 when he became the founding editor of The Chadds Ford Post. In April 2009 he became managing editor of ChaddsFordLive. He is also an award-winning photographer.
Comments
comments