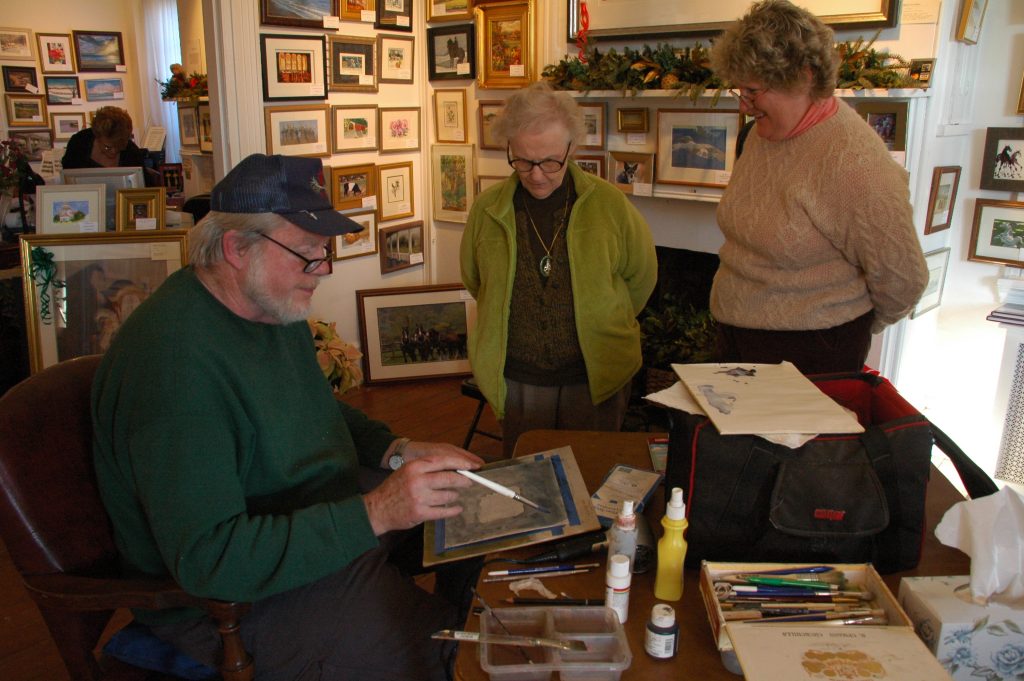 Two months of Sunday artist demonstrations at the Chadds
Ford Gallery came to an end Dec. 27 with a demonstration by area favorite Paul
Scarborough. Visitors to the gallery had the opportunity to see Scarborough
create a watercolor image of the Brandywine River Museum at night after a
snowfall.
Scarborough began the scene with a sketch of the building
which he then covered with an acrylic wash to give the image a feeling of
night. He worked in layers from light to dark, pausing between layers to use a
small hair dryer to dry the paper so he could complete the image while people
watched.
The number of onlookers during the hour-long demonstration
ranged from two to six people at any given time. One of the people who stayed
for the entire demonstration was Jan Birsch of West Chester.
"Having purchased a number of Mr. Scarborough's artworks
over the years it was fascinating to see how it comes into being," she said.
Birsch said her favorite part was watching Scarborough paint
a snow covered fir tree without actually painting the snow. The snow was
created by painting the dark tree limbs within a lighter colored area of the
paper.
"He was painting what was underneath it as opposed to
actually painting the snow that was on top of the branches. So it was
interesting to see the technique," said Birsch. "It was fascinating to watch."
One thing Scarborough did not put in the painting while
anyone was watching was his signature cardinal. He said he didn't want to
reveal his technique for creating the cardinal in a night scene.
The demonstrations began in October with demos by Tim Wadsworth
and Robert Stack, who were showing together at the time, and ran for every
Sunday through the end of the year.

Rich Schwartzman has been reporting on events in the greater Chadds Ford area since September 2001 when he became the founding editor of The Chadds Ford Post. In April 2009 he became managing editor of ChaddsFordLive. He is also an award-winning photographer.
Comments
comments