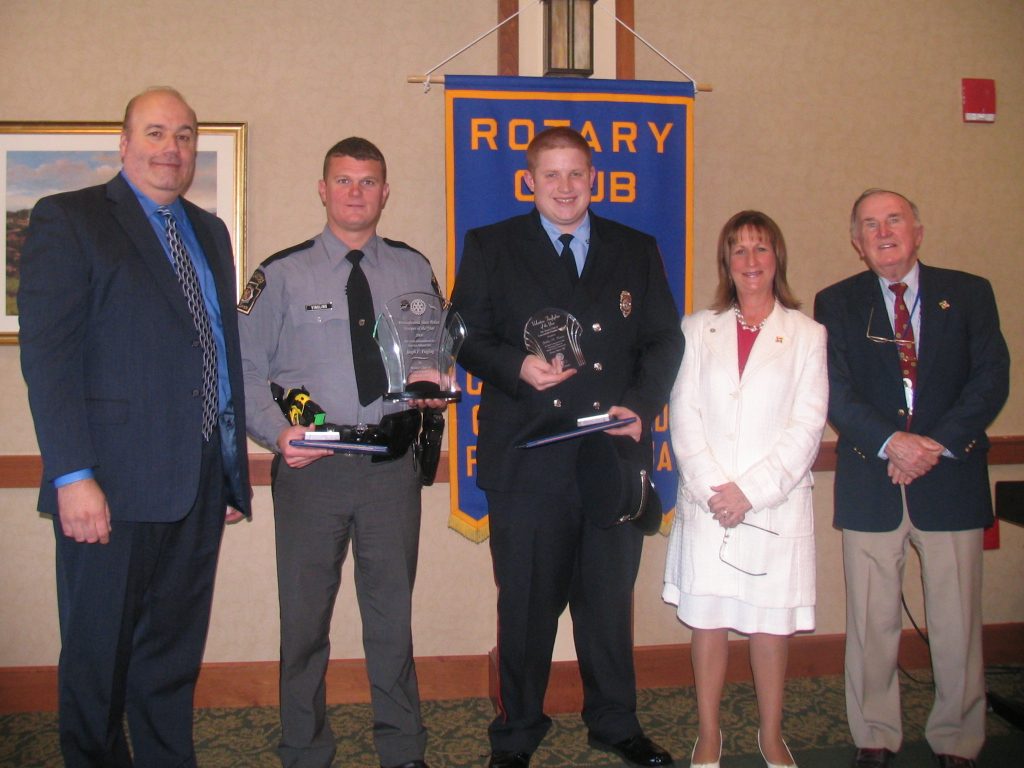 The Concordville-Chadds Ford Rotary honored both a police
officer and a firefighter during the group's annual holiday lunch meeting at
Maris Grove Dec. 9.
Policeman of the Year honors went to Pennsylvania State
Police Tpr. Joseph Yingling, of Troop K, Media.
Rotary past president Ike Watkin said Yingling has
"repeatedly proven himself to be an addition to the patrol unit" since joining
Troop K in May of 2008.
He said Yingling is "remarkably self-motivated and proactive
in the enforcement of both traffic and criminal arrests."
Watkin cited Yingling's 78 criminal investigations, 112
motor carrier inspections, 59 misdemeanor/criminal arrests, 19 DUI arrests, 24
summary criminal arrests and 292 summary traffic arrests during the past year.
"Tpr. Yingling has continually proven to be an asset to the
Pennsylvania State Police and the community as a whole," Watkin said.
New this year was the awarding of a Fireman of the Year
Award, this going to Josh Turner of the Concordville fire Co.
In nominating Turner, Rotarian Joe Susco said the
firefighter has an exemplary number of fire calls to his credit despite not
being a member of the company for long. Turner graduated Garnet Valley High
School in 2004, is currently in EMT training and would also like to pursue
paramedic training, said Susco.
"He's a fine young man and well deserving of this award,"
Susco said.
He said Turner is a fine example of "Service above self," a
Rotary principle.
Susco said he hopes the Fireman of the Year Award will be
come an annual event.
Both Turner and Yingling were presented with the Paul Harris
Award. Harris was the founder of Rotary.
As is customary at the holiday luncheon, members and guests
were entertained by the fourth- and fifth-grade choruses from Garnet Valley Elementary
School. The students sang a series of eight traditional and nontraditional
holiday songs.

Rich Schwartzman has been reporting on events in the greater Chadds Ford area since September 2001 when he became the founding editor of The Chadds Ford Post. In April 2009 he became managing editor of ChaddsFordLive. He is also an award-winning photographer.
Comments
comments