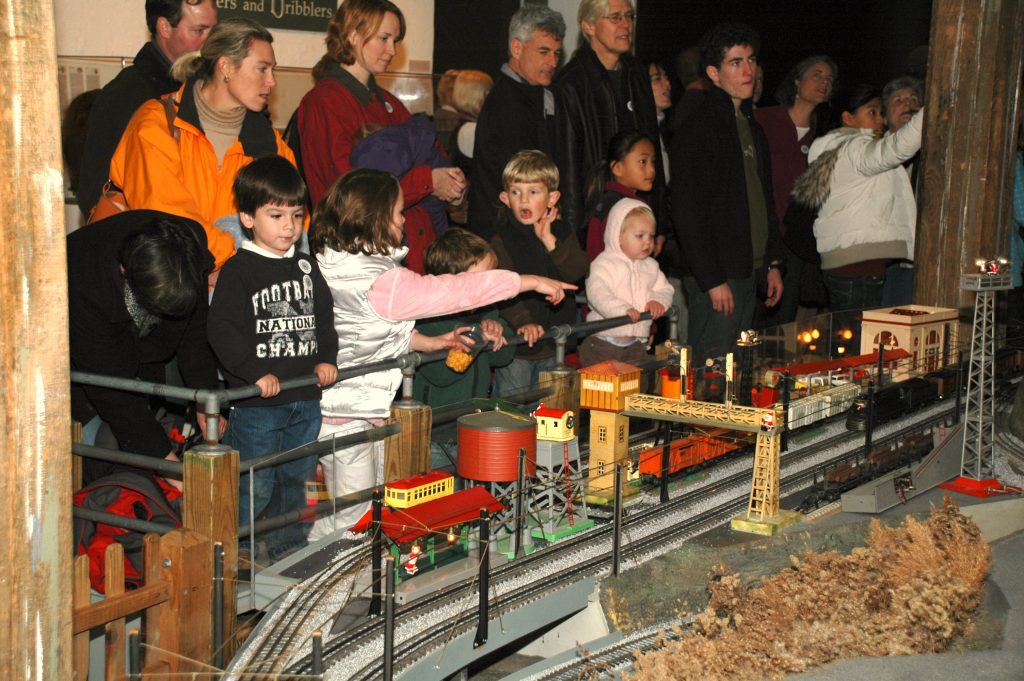 It was all aboard for another Brandywine Christmas at the
Brandywine River Museum Friday, Nov. 27.
The day after Thanksgiving is the annual launch date for the
yearly tradition, this year featuring illustrations for Alice in Wonderland, as
well as the always popular model train display, and unique critter Christmas
ornaments. The display runs through Jan. 10.
This year also includes a display of more than 60 dolls from
the collection of Ann Wyeth McCoy. The dolls are large French, German and
American bisque dolls posed in small group winter scene tableaus. The dolls are
dressed in antique clothing or in costumes designed and sewn by McCoy from
antique fabrics. McCoy's children donated the dolls to the museum.
The O-gauge train display, in the second floor gallery,
includes 150 locomotives and 300
freight cars running on more than 2,000 feet of track.
"This year's
display will look back to the origins of the miniature railway hobby, when
steam was the power for model trains," said Lora Englehart, public relations
coordinator for the conservancy. "Train enthusiast Murray Wilson has loaned his
private collection of miniature steam locomotives, some dating to the 1860s,
for a special display."
Wilson will operate some of the train himself from Dec. 26
trough Dec. 30, Englehart added.
Also on display will be the traditional Christmas critter,
hand made Christmas ornaments constructed from all natural materials by
conservancy volunteers. The display includes five "themed" trees, according
to Englehart: "One tree depicting the many forms of wildlife found in and along
rivers; one showcasing pods, weeds, grasses and seeds in their unconstructed
state; another displays an assortment of critters, stars, and figures
highlighted by glitter made from ground mica; a tree with an angel theme and a
sports tree with critters playing every sport imaginable."
The critters will be ready for sale this weekend, Dec.
5 and 6, 9:30 a.m. to 4:30 p.m.
This year also includes a special exhibition Alice in
Pictureland: Illustrations of Lewis Carroll's Classic Tales. It includes work
by John Tenniel, the first illustrator of Carroll's Alice stories, as well as
by subsequent noteworthy artist-interpreters, including Arthur Rackham, Peter
Newell, Jessie Willcox Smith, and Barry Moser. The exhibition features over 40
objects, including original art, proofs, prints, and first edition books.

Rich Schwartzman has been reporting on events in the greater Chadds Ford area since September 2001 when he became the founding editor of The Chadds Ford Post. In April 2009 he became managing editor of ChaddsFordLive. He is also an award-winning photographer.
Comments
comments