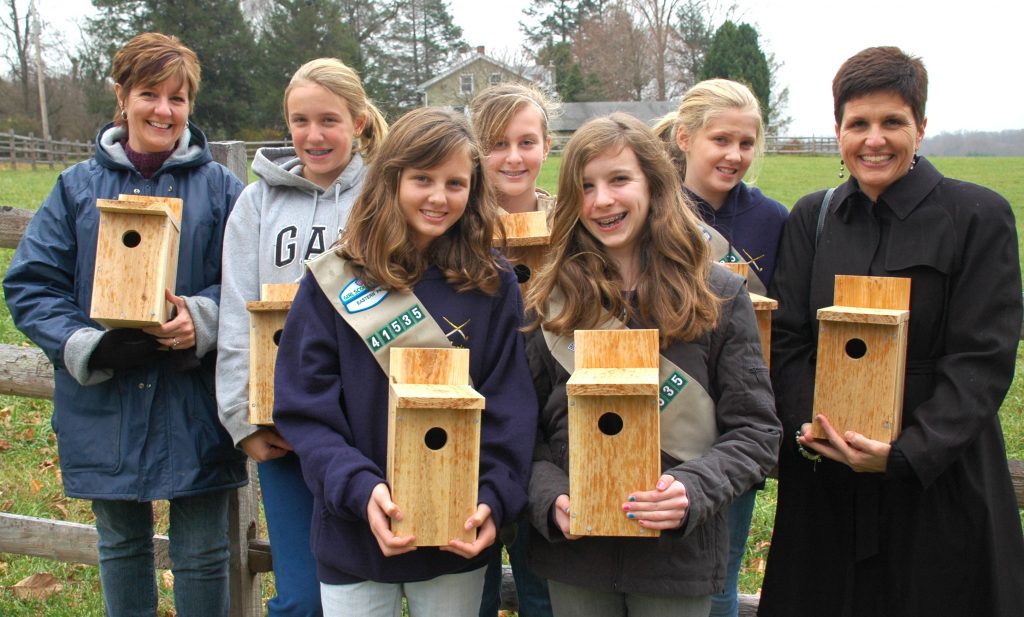 Instead of staying out of the rain on a raw and drizzly
November afternoon, five members of Girl Scout Troop 41535–and two of their
leaders–spent time making some additions to the new Birmingham Trail along
Meetinghouse Road in Birmingham Township.
The girls took on a Bronze Award project to put up seven
birdhouses along the trail. Co-leader Amy Hughes said the installation of the
birdhouses completes the project they started last year.
Hughes said the Bronze Award is the highest award junior
Girl Scouts can receive."
She added that they learned the trail could use the
birdhouses from a contact in Birmingham Township.
"Someone … who was on a board in Birmingham Township said
there was a need to publicize the walking trail. So we went to a few township
meetings and asked what we could do," said Hughes. "The girls had to do some
proposals at the township meetings and they learned a lot about democracy."
Valerie Oehler, the other co-leader for the group said, "The
girls made the birdhouses and had to research how to make them."
She added that it was a father/daughter project with the
dads helping with the construction.
The girls, Sara Beth Johnson, Jessica Oehler, Katie Dempsey,
Annie Dempsey and Kathryn Hughes–along with their two co-leaders–put up the
seven houses on Monday, Nov. 23.
All the girls are seventh-graders.
Katie Dempsey said the project
is significant because the birds need the houses. "I guess we're kind of making
the birds happy."
Her sister Annie Dempsey said,
"[The project] means a lot because we're helping birds out and making them
happier."
Sara Beth Johnson sees the
project from a different perspective: "We're helping the community and making
it prettier. And that makes me happy."
Jessica Oehler said the
project was "cool because there's a lot of nature out here and it adds to the
scenery and makes it pretty."
Kathryn Hughes said, "I think
[the project] will make people happy because you can walk down the whole path
and see a lot of pretty stuff. And if they want to they can take pictures."

Rich Schwartzman has been reporting on events in the greater Chadds Ford area since September 2001 when he became the founding editor of The Chadds Ford Post. In April 2009 he became managing editor of ChaddsFordLive. He is also an award-winning photographer.
Comments
comments