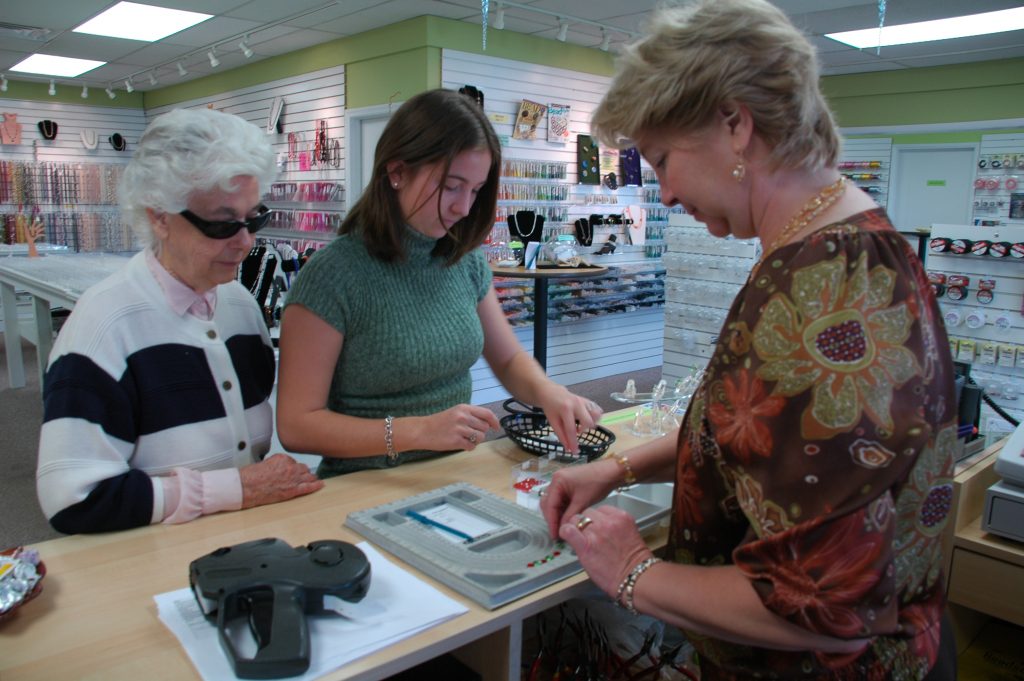 It's been a bumpy first year for Beadscope, but owner
Rajeevi Subramanian remains positive and sees improved business for her store
in Olde Ridge Village.
There was the natural excitement of starting a new business,
yet there was apprehension because of the economy.
"We started out with a lot of fear because we started in an
[economic] environment we knew was going down. We started in November when the
market had crashed. But, we were excited because we thought there was an
opportunity for people because we heard it from them directly… We were excited
but scared out of our wits."
She said the good was that many customers thanked her and
her partner, Susan Losito, for opening the shop to replace a bead shop that had
closed. She also thinks beading is catching on.
"I think beading has become so widespread that people are
now going to [industry] shows, and they are plentiful," she said.
Subramanian said those shows are good and bad for her and
Losito. She said they would like to go to them, but can't since it's only the
two of them working at the store.
Another difficulty presented is pricing. She can't beat the
prices offered at the shows, she said.
But what Beadscope does offer is selectivity in merchandise,
the convenience of being a local shop and ongoing classes in beading.
"We're really picking good, high
end quality stuff and tying to give it to [customers] at a reasonable price.
The price is still higher than what they would get at a show… but they can get
very cheap strands at the shows. … But they don't realize until the get home
how poor the quality is."
She admits even the quality
pieces at shows cost less than what she can offer, but Subramanian thinks it's
the classes offered that really sets Beadscope apart.
The store caters to a customer's schedule for classes.
Instead of a person losing out because she had to miss a class on a given day,
Beadscope also offers private classes in beading that are geared to small
groups or even one-on-one training.
Subramanian will offer a private lesson on the same class at
the same group rate if a person can't make the regular class.
"People like that convenience. They like the fact that they
can come into a private class and a lot of people also want a private lesson,"
she said.
In addition, Subramanian said they are always looking to
offer new classes on different projects. And frequently those are classes that
people have asked for such as herring bone and Viking knit.
Part of the anniversary celebration includes a trunk sale of
pieces made by customers.
Subramanian said, "There's a lot of talent in the area. I'm
amazed at all the things people make."
Phyllis Orlando, a customer and instructor at the store said
Subramanian and Losito are both very knowledgeable.
"You don't find this level of knowledge in other bead stores
where people are more clerks than artists," Orlando said.
She added that there's a good variety at Beadscope where
people can find items they can't get at other bead stores.
The shop held a weeklong anniversary celebration from Nov.
15-21.

See Contributors Page http://chaddsfordlive.com/writers/
Comments
comments