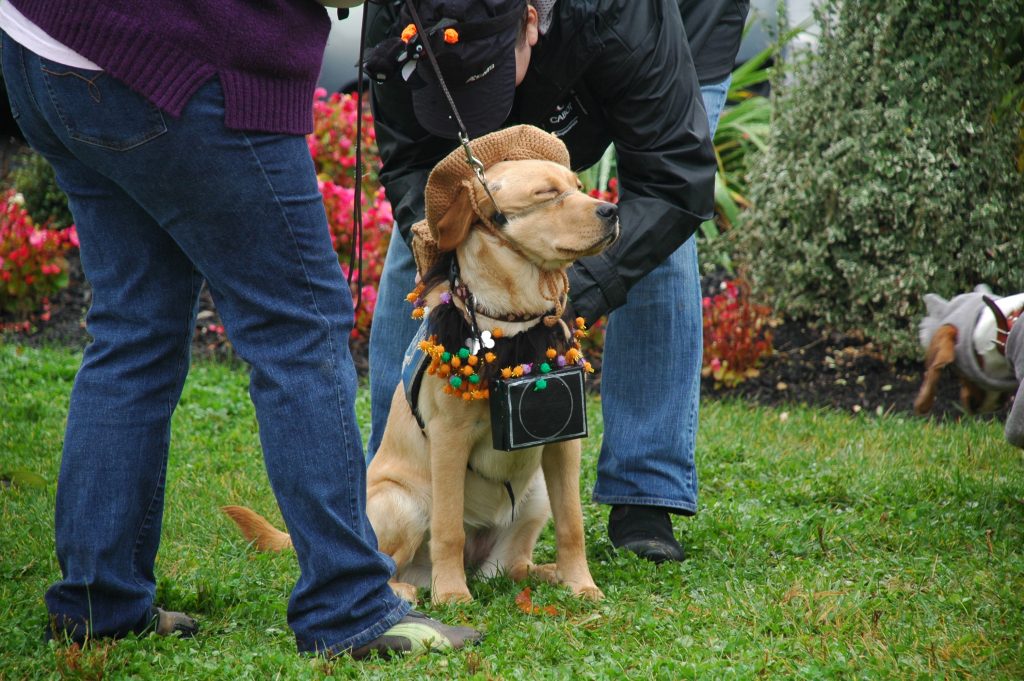 Olde
Ridge Village Shopping Center went to the dogs during the day on Halloween with
a "Howloween Pawrade" aimed to raise money for Canine Partners for Life.
Giggy
Bites, a pet snack food bakery at Olde Ridge hosted the event.
Dozens
of dogs–and their humans–took part in Musical Chairs, Snoopy Says, Bobbing for
Tennis balls and other games. There was also canine finger painting and a
sketch artist doing caricatures of people with their pets.
Stephanie
Rossino, one of the partners at GiggyBites, holds benefits for canine partners
for Life several times each year.
"Canine
Partners for Life is an excellent organization. They train service dogs to help
people gain, or regain their independence," Rossino said. "Seeing their
recipients, and how they benefit from the dogs, it's just a win-win situation."
Anita
Edwards, special events coordinator for Canine Partners for Life, said Giggy
Bites has done an excellent job for CPL.
"[They've]
helped us promote CPL and raise awareness for our dogs. [They've] always gotten
our little cards for upcoming events," Edwards said.
Edwards
explained that the dogs CPL raises and trains are for people with mobility
impairments and seizure disorders. She said the dogs could help people with
multiple sclerosis, Lou Gehrig's, cerebral palsy, plus others problems
including epilepsy.
She
said she has a goal of raising a total of $40,000 per year for miscellaneous
special events.
Giggy
Bites opened its doors at Olde Ridge in June 2007 and just recently made its
presence known in Hollywood.
In August, Distinctive
Assets, a celebrity gifting firm, selected Giggy Bites to be part of their "HollyWOOF
A-list" gift bags.
Each celebrity–
including Rachael Ray, Oprah Winfrey, Kathy Griffin, Katherine Heigl and others–
received the Taste of GiggyBites Market Basket which features a selection of
fresh baked all natural treats and store-made Jack's beef and chicken Jerky
nestled in a reusable handmade wooden box. Cat-loving celebs got a selection of
Willie's favorite toys and treats.

Rich Schwartzman has been reporting on events in the greater Chadds Ford area since September 2001 when he became the founding editor of The Chadds Ford Post. In April 2009 he became managing editor of ChaddsFordLive. He is also an award-winning photographer.
Comments
comments