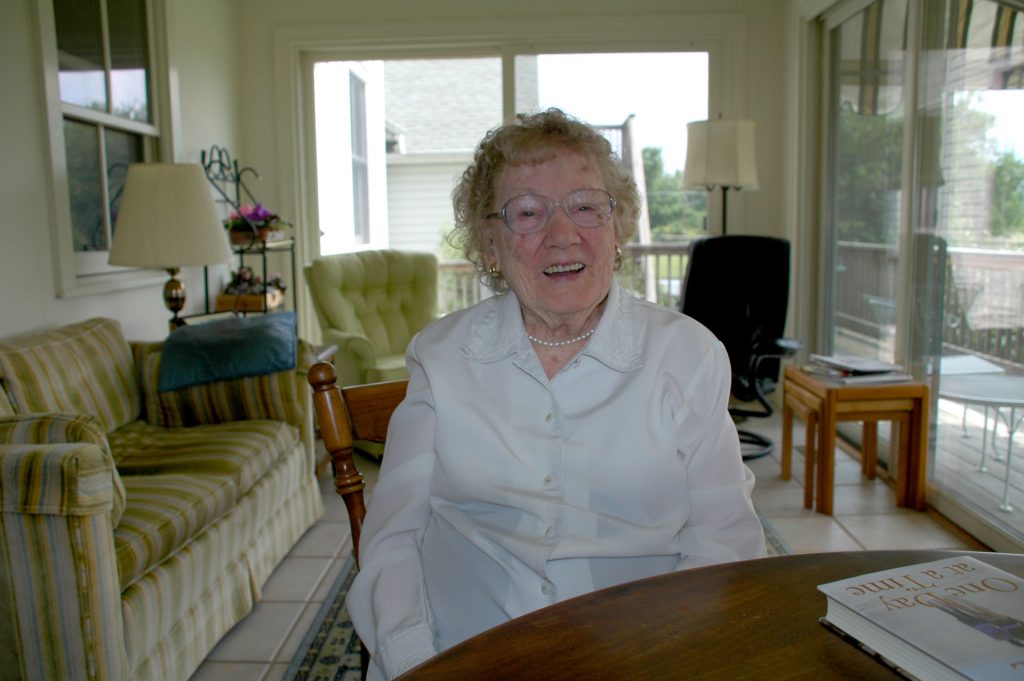 Mary Beck has seen a lot in her life. And why not? That life has been going strong for 100 years.
Beck lives in the same Chadds Ford house on Ring Road where she was born Aug. 1, 1909. She recalls things about Chadds Ford that most residents have only heard about.
"But I don't think I'm very interesting. I didn't do very much," she said four days after celebrating her 100th birthday.
Yet, at least by extension, she's been deeply involved in Chadds Ford history. Her father, she said, was the person who, in the 1920s, lent money to a German immigrant named Karl Kuerner so he could buy a now very famous farm on Ring Road. Her father also worked on the farm for a while.
Beck also remembers a time when her mother was ill and the man who made the farm famous, Andy Wyeth, came by with his wife Betsy, to see if there was anything they could do to help.
"He was a wonderful man," Beck said.
She also knew Chris Sanderson and Sister Archie.
Much has been said in recent years about Chadds Ford being a rural township, but Beck was in the township when it really was. While cars were in the area, she recalls when the main mode of transportation along Route 1 was still horse and wagon and how the sound of the hooves and wagon wheels would change when moving from the old cindered cartway to a new concrete surface.
And while there are no grocery stores in the township now, Beck said there used to be two food stores across the street from each other at Route 1 and Creek Road. One was Baldwin's and the other Gallagher's.
She said Gallagher would come around on his horse and wagon to take orders on Tuesdays, then come back and deliver the food order on Fridays.
There was also a barbershop on a third corner and a blacksmith shop on the other, where Hank's Place is now.
The era of her youth predates television, and one of the popular forms of entertainment were the community sings held at Brandywine Baptist Church on Tuesday night.
"Every denomination went there. It was a pretty big thing," Beck said. "Mrs. Pyle would play the organ."
She also remembers when trains would stop at both Chadds Ford Station and Chadds Ford Junction, two close stops in the area of Fairville Road in Pennsbury Township.
Beck graduated high school in 1927, the year Charles Lindbergh made his solo flight across the Atlantic. Beck said she was on her way back home from Washington for her senior class trip when Lindbergh landed in France.
She married Joe Beck in 1936 and moved to a house on Ridge Road across from what is now the Ridings. The couple later moved to Darlington Corner near Wawa and their daughter Peggy Day was born 1938. Beck moved back to Ring Road after her husband died.
Joe Beck died after an accident at Sun Ship two days after the Japanese attacked Pearl Harbor in December 1941. Beck said someone failed to properly close a hatch and Joe fell into the hold of a ship at the yard. He died two days after that. Beck said his death was "the thing that hit me the most," but if she had her life to live all over again, "I'd marry the same man."
When asked if she would anything differently, she said, "I wouldn't let Joe go to work at the shipyard."
She thinks the biggest thing mankind has done was the moon landing in 1969, though she doesn't think she personally did anything spectacular.
Beck worked as a lab technician at NVF for 35 years, and in looking back over her life she thinks she could have done more and would definitely have liked to further her education. "I didn't do anything outstanding."
Her daughter disagrees. She said her mother took care of everyone in the family and that Beck was the primary caregiver for the extended family.
Beck said she couldn't think of any specific piece of knowledge she would pass on to other generations, but her daughter said there was something the family learned from her mom, that being, "Always be considerate of other people."
As for the people of Chadds Ford, Beck said, "I still love them all."

Rich Schwartzman has been reporting on events in the greater Chadds Ford area since September 2001 when he became the founding editor of The Chadds Ford Post. In April 2009 he became managing editor of ChaddsFordLive. He is also an award-winning photographer.
Comments
comments