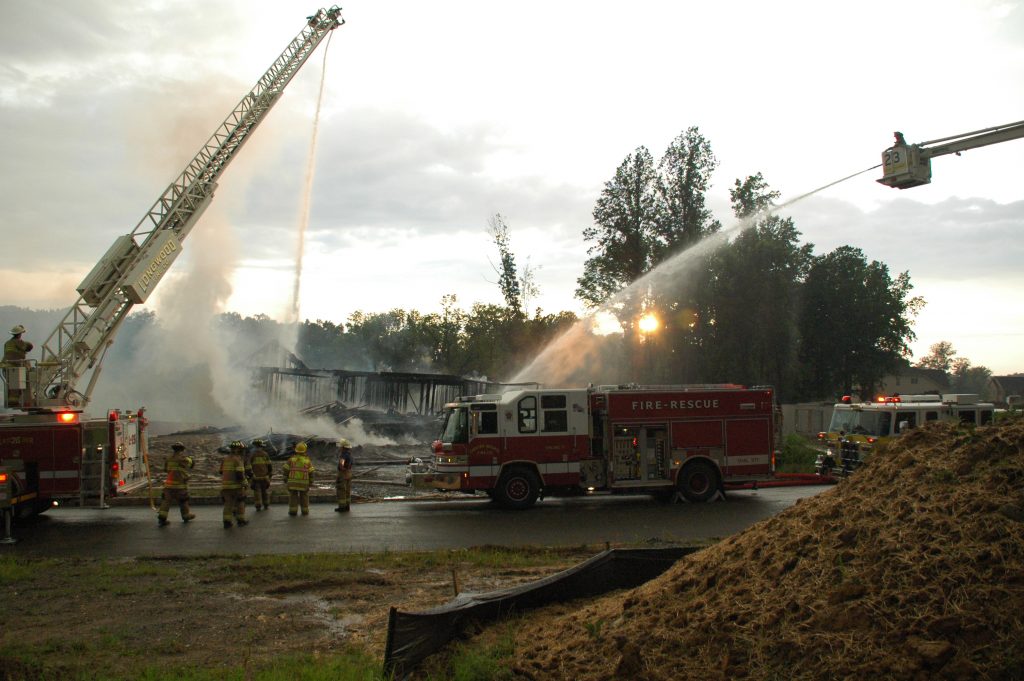 A lightening strike is one possible cause for a fire that destroyed a home under construction on Magnolia Way in the Estates of Chadds Ford, the Toll Bros. development off of Hillman Drive in Chadds Ford Township. There were no injuries reported.
Firefighters from at least five different companies responded to the blaze that broke out during a thunderstorm at approximately 6:55 p.m. Friday, July 25. Rob Griffin, the assistant fire chief from Concordville Fire Co. said the fire was officially under control by 7:45 p.m.
The house was on home site 32 at the corner of Magnolia Way and Evergreen Place. While the cause is still under investigation, area residents believe the cause was a lightening strike. Fire Chief Tom Nelling said nothing is being ruled out at this time. State police Fire Marshal Jay Stewart was called in on the case according to other officials at Concordville Fire Co.
Assisting Concordville were units from Longwood, Bethel, Media and Chester Heights.
ChaddsFordLive thanks the resident who phoned in the tip about the fire.

Rich Schwartzman has been reporting on events in the greater Chadds Ford area since September 2001 when he became the founding editor of The Chadds Ford Post. In April 2009 he became managing editor of ChaddsFordLive. He is also an award-winning photographer.
Comments
comments