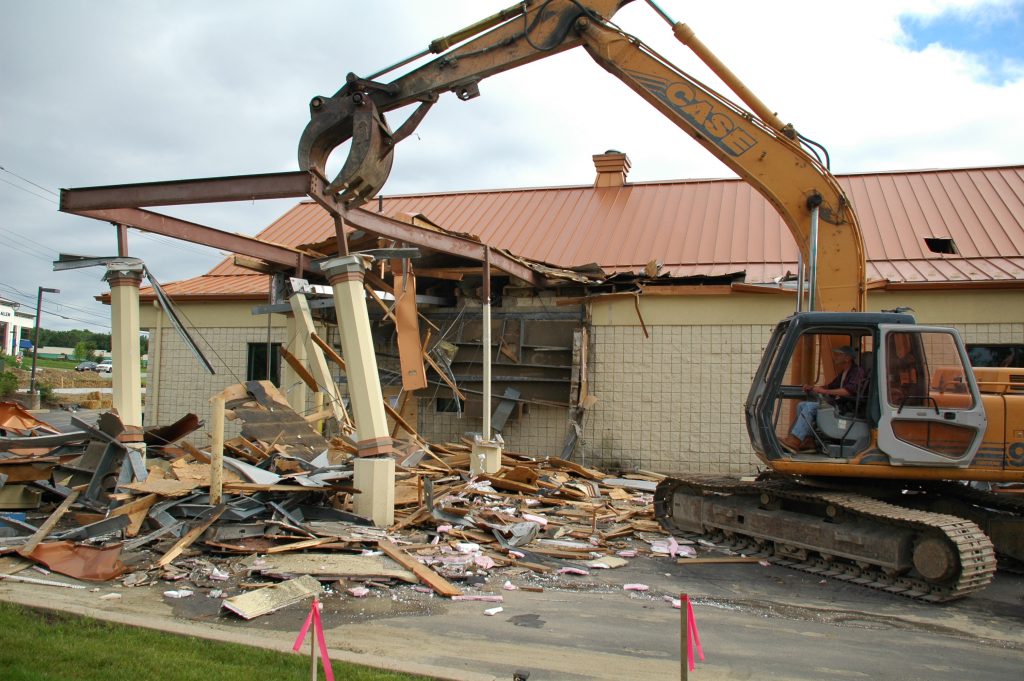 The walls–and everything else for that matter– of the old PNC bank at Glen Eagle Square Shopping Center came tumbling down Tuesday, but not before members of two volunteer fire companies got to do some much needed practice.
"I can't remember the last time we were given a building," said Concordville Fire Co. Chief Thomas Nelling.
Firefighters from Concordville and Chester Heights got to practice forcible entry, wall breaching and ceiling pulling as part of a training session Monday night.
"It's the only way to get hands on training," Nelling said.
The volunteer firefighters got the chance to practice thanks to management at Glen Eagle. It was the last hurrah for the bank building at the entrance to the shopping center on Route 202 in Chadds Ford Township.
As part of a planned renovation of the center, PNC moved its branch several hundred feet farther north on Route 202 to an adjacent lot at Marshall Road. The old building concluded its time as an active branch Friday, June 19 with the new building opening Monday, June 22 before its scheduled demolition Tuesday.
The space used by the old building will be repaved and converted into an extra 55 parking spaces for the center. The entire north side lot at Glen Eagle will be repaved, according to Steve Schnur of LaSalle Investment management who represented the center during the two years it took for the township to approve the overall plan.
By the end of he year, Schnur said, The Gap and Gap Kids will consolidate and move from the Concord Township side of the center in the Chadds Ford side into the location that was once the site for Honey Baked Ham and Blockbuster Video.
Other changes and additions include a toy store, jack in the Box, moving in next to Outback restaurant and new islands in the parking lot.

Rich Schwartzman has been reporting on events in the greater Chadds Ford area since September 2001 when he became the founding editor of The Chadds Ford Post. In April 2009 he became managing editor of ChaddsFordLive. He is also an award-winning photographer.
Comments
comments