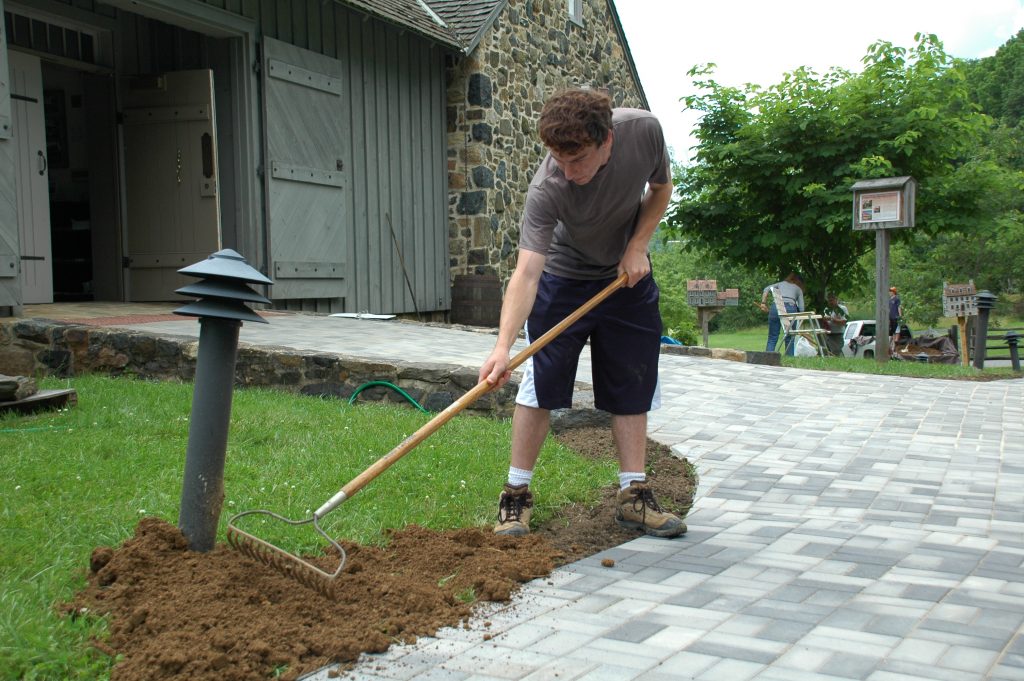 Boy Scouts are supposed to make a positive impression on people and Vito Jacono has done just that.
Jacono, from Birmingham Township, just finished his Eagle Scout project of putting in a brick walkway at the Chadds Ford Historical Society. Gone are 550 square feet of gravel and dirt, replaced with the same area of new brick pavers on the front of the Barn Visitors Center. Also gone is the step up into the building. All of which floored CFHS Executive Director Ginger Tucker.
Jacono finished the work last Sunday, and Tucker just returned from vacation on Monday.
"I'm speechless," Tucker said. "Not only does it look fabulous, but it makes a statement that I wasn't anticipating and I wasn't expecting. When you walk up and see that gorgeous walk, somehow it says, 'We're serious about what we do.' And I never expected that. It gives a sense of arrival to our visitors and a sense of our professionalism. I've always felt we are a professional organization and I always felt we looked very professional, but I didn't realize how the old walkway subtracted from the way we are conceived, the impression we give our visitors. I'm just overwhelmed."
Jacono, who will be entering his senior year at Unionville High School, spent about three weekends on the physical part of the work, he said. The paving bricks cost about $3,000, but he did get a break from Glen Mills Sand and Gravel.
The pavers start where the old step had been at the main entrance to the center, come down toward the fence, then flair out to the left and right, but stop before they reach the parking area.
Jacono said his project called for doing only the 550 square feet and he hopes that other scouts will choose to pick up where he left off to complete the job as part of their Eagle Scout projects.

Rich Schwartzman has been reporting on events in the greater Chadds Ford area since September 2001 when he became the founding editor of The Chadds Ford Post. In April 2009 he became managing editor of ChaddsFordLive. He is also an award-winning photographer.
Comments
comments