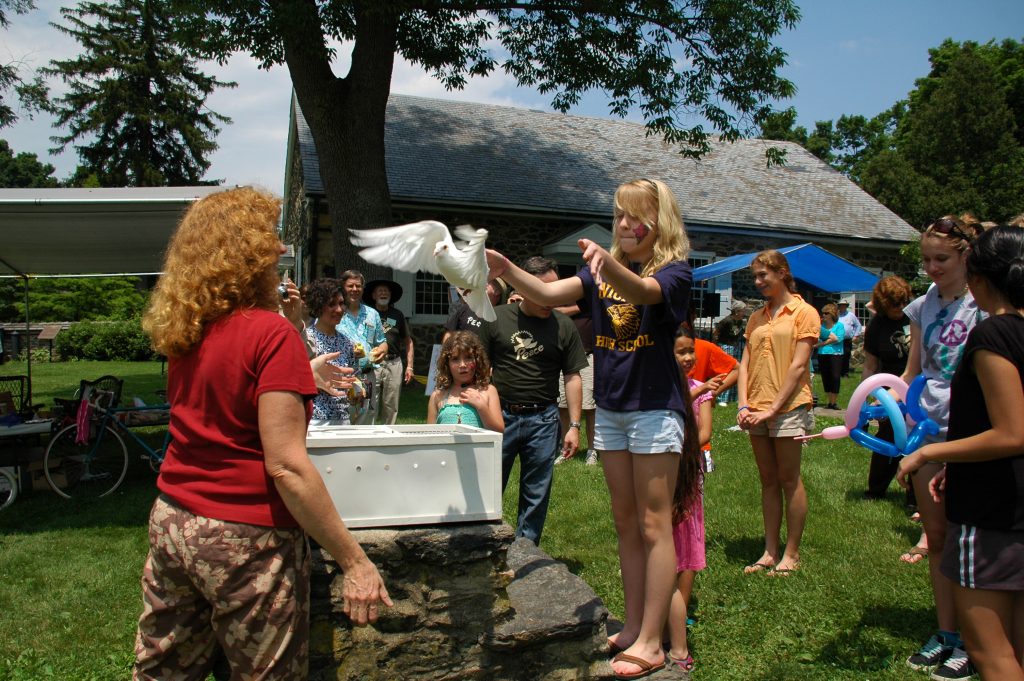 The Birmingham Friends Meeting was the site for the second annual Peace Fair designed to bring awareness to the need for clearing out unexploded ordnance and to raise money for the purchase of a piece of surveying equipment that also serves as a land mine detector.
Last year's event raised enough money to buy two detectors, but the manufacturer matched that and four detectors were sent to Nepal to clear mines left over from a civil war there.
But, last year's event also brought in a person who decided to take an active part in the effort.
Hadley Dole, 16, of Landenberg, has taken up the cause. Dole is going into 10th grade at Kennett High School and is raising money for the mine detectors as his high school project, a requirement for graduation.
Dole was at last year's Peace Fair and decided to get involved with the project. He's been able to raise $725 so far this spring and said he'll be working on the project at least into his senior year.
"I might do it afterward if I have time," he said.
His goal is to raise money for as many land mine detectors as he can, he said.
The detectors cost $1,041 each.
Dole said he wanted to get involved after attending last year's event and speaking with Frank Lenik, a Salem County, N.J. surveyor and clerk of the Woodstown Friends Meeting, who several years ago was pivotal in working with Schonstedt Instrument Co. in working out the matching program.
Lenik discovered that one piece of surveying equipment he uses to detect metal corner markers can also detect land mines. He said Schonstedt already had a matching program for large equipment, and was able to work with the company to get a matching program for the metal detectors.
According to Lenik, 98 percent of the people killed or maimed by the old weapons are farmers and children.
Since the project began in 2007, Lenik's efforts have led, directly or indirectly to 277 detectors being sent to more than 30 countries.
"When you make a donation to anything … you always wonder how many hands are going to touch that donation before it actually arrives at the intention you have for your money. The fantastic thing about this is the Peace fair here raised enough money for two detectors. The company matched it. They sent four detectors and they went straight to the people of Nepal where they were needed," Lenik said. "No money gets lost along the way. … The money is going right where it's needed and I think that's a wonderful thing."
While Lenik downplays his role in the efforts, the New Jersey Society of Professional Land Surveyors named Lenik its Surveyor of the Year in 2009.
During the fair, Lenik demonstrated the use of the detector and there was a release of peace doves by Heartwings Dove Releases of Landenberg.

Rich Schwartzman has been reporting on events in the greater Chadds Ford area since September 2001 when he became the founding editor of The Chadds Ford Post. In April 2009 he became managing editor of ChaddsFordLive. He is also an award-winning photographer.
Comments
comments