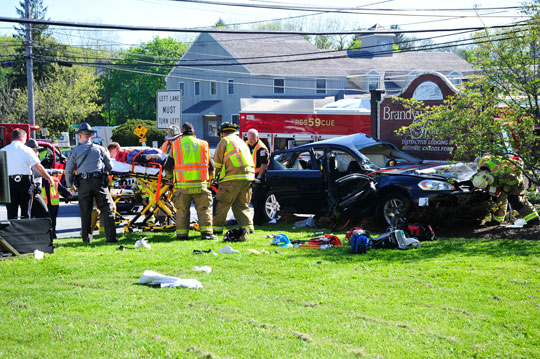 One person was killed and two others were hospitalized following a two-car crash on Route 1 at Creek Road in Chadds Ford Township Thursday afternoon.
The deceased was identified as Phillip D. Shultz, 73, of Benton, Pa. His wife, Susan M. Shultz, 63, was injured as was the driver of the second vehicle.
According to reports, Philip Shultz was driving his black 2007 Chevrolet Impala north on Creek Road when he pulled out into the traffic lanes on Route 1, directly in front of an oncoming white Jeep Wrangler shortly after 4 p.m.,  May 2. The Jeep driver, traveling north on Route 1, tried to swerve out of the way, but was unable to do so, police said, and hit the Impala broadside on the driver's side. The Chevy came to rest on the lawn next to the driveway leading to the Chadds Ford Barn Shoppes, in between a traffic sign and a sign for the Brandywine River Hotel.
The driver of the Jeep, identified only as a 31-year-old man from Glen Mills, received moderate injuries. Injuries to Susan Shultz were described as serious. Philp Shultz was pronounced dead at Riddle Hospital.
Emergency crews had to use the Jaws of Life to extract the occupants of the Chevrolet.
Responders included state police from the Media barracks, Concordville and Longwood Fire companies, Concordville EMS, Crozer EMS, Longwood EMS, Concordville Fire Police and Longwood Fire Police.

Rich Schwartzman has been reporting on events in the greater Chadds Ford area since September 2001 when he became the founding editor of The Chadds Ford Post. In April 2009 he became managing editor of ChaddsFordLive. He is also an award-winning photographer.
Comments
comments