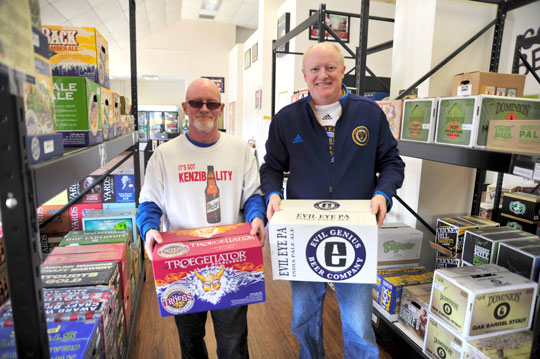 No more traveling hither and yon for a case of beer. Chadds Ford now has a beer distributor in town thanks to the efforts of a medical research statistician.
Chuck Scott, who has a doctorate in statistics, and his brother Dave opened Cold Beverage Station in the Painters Crossing shopping center on April 10. It's at the end of the main strip of shops, directly across the parking lot from Friendly's Restaurant.
One of the store's first customers during the weekend was Elise Bloodwell, of Chadds Ford Township.
"You can see what's here," she said while shopping with her husband on Saturday morning. "I think it's great."
The variety of beer and ale is clearly visible. Walk the perimeter of the display area for the usual domestic brews, from Bud to Miller and Yuengling, but the shelves show lesser-known brands, such as Genesis — billing itself as He'Brew, The Chosen Beer. There's also Du Claw, Landshark, Stone and Banana Bread Beer.
Chuck Scott said Cold Beverage Station was designed to be different.
"We're different by the feel of the place. It's open, conducive to people being able to come in and shop. We have lots of information on our beers and we have a cider selection, as well. It gives you complete shopping for all of your beverage needs," he said.
He describes the store as comfortable, not forbidding.
"You can come in and shop, look and have all the information and have a sampling of beer," Chuck Scott said. "Those components make the store inviting to everyone."
That sampling means tastings at the store, trying something new before you buy it. Shoppers can taste two ounces of any of the beers chosen for sampling that day. The store chooses the three to four beers for tasting on a given day.
Variety packs will also be available for sale. He explained that it's a big step to buy a case of something that's completely new, so some brewers are offering cases with four different varieties of beer.
The brothers are focusing on local and regional beers from the Mid Atlantic region, from New York, Pennsylvania and New Jersey down to Virginia. All beers made in the region are available at their store, Chuck Scott said.
The move into selling beer is no stretch for Dave Scott. He has 30 years experience in a variety of retail stores. For Chuck Scott, moving from medical research to beer was a matter of him following his taste buds.
"It's a love of the craft beer explosion, wanting to impart that love to the consumer," he said.
Chuck Scott said the store is community oriented. He's donating 1 percent of selected profits to the Delaware County SPCA. Costumers have to sign up for the Pub Program to have their purchase qualify for that donation.
Cold Beverage Station is open 9 a.m. to 9 p.m. Monday through Saturday, 10 a.m. to 6 p.m. on Sunday.
Photo: Dave Scott, left, and Chuck Scott are ready for business at Cold Beverage Station in Painters Crossing.

Rich Schwartzman has been reporting on events in the greater Chadds Ford area since September 2001 when he became the founding editor of The Chadds Ford Post. In April 2009 he became managing editor of ChaddsFordLive. He is also an award-winning photographer.
Comments
comments