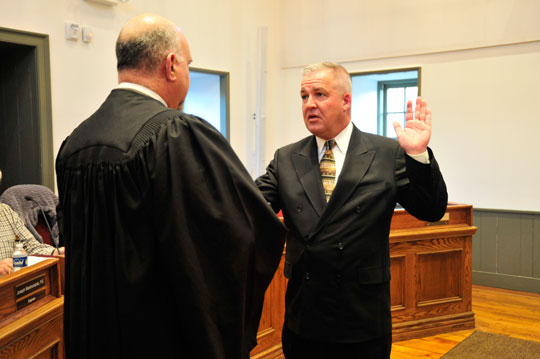 Chadds Ford Township now has a new fire marshal as well as a new codes officer, vacancy officer and a returning roadmaster.
Supervisors named Michael Daily, a Chester Township police officer and longtime volunteer firefighter as fire marshal. The township had been using Fred Field, Concord Township's fire marshal until late last year.
The fire marshal reviews developers' plans, inspects public buildings, advises residents of hazards, enforces burning ordinances and investigates the cause of fires in coordination with the state police fire marshal or county district attorney's office.
Daily has been a police officer for 28 years, currently serving as patrol supervisor in Chester Township. He's been involved with the fire service for more than 25 years, mostly in investigation.
"I look forward to serving the residents of Chadds Ford. I see a lot of good things coming," he said in a brief interview prior to the April 3 Board of Supervisors' meeting.
He said he wants township residents to know that he's available to answer questions.
"It's a close-knit community and I'd like to be part of that," Daily said.
Supervisors' Cjhairman Deborah Love said Daily would be appointed to the Emergency Preparedness Committee.
Daily was sworn in at the meeting by Judge Richard Cappelli. (See photo above.)
Supervisors also appointed Barb Kearney, of BIU Inc., as the new codes officer, zoning officer, grease trap inspector and member of the Historical and Architectural Review Board. She replaces Rich Jensen.
Another replacement is Craig Huffman. He's replacing former Supervisor Garry Paul as vacancy officer. Paul resigned from that position the last week in March.
Current Supervisor George Thorpe will be wearing an old hat once again. He will serve as roadmaster through the end of 2013. He replaces Joe Barakat who had been roadmaster and township manager until his resignation in December. Thorpe has served in that capacity before.
While Judy Lizza is serving as the interim township manager, supervisors are still looking to hire a permanent replacement. They will be advertizing the position and will take applications through May.
Other business
Several representatives from the Kennett Area Senior Center — Tom Hoehle and Ken Schreffler — addressed the supervisors, looking for volunteers and possibly members.
Hoehle said the center has more than 50 programs offered for seniors, including exercise and computer oriented programs. He added that the center also gives caregivers a break. They can take the seniors they care for to the center so they can have a few hours for themselves.
Schreffler spoke about Neighbors in Action, a program in which volunteers give their time and talents to help out with transportation needs, light home repair and providing companionship.
They left brochures at the township building for people wanting more information.

Rich Schwartzman has been reporting on events in the greater Chadds Ford area since September 2001 when he became the founding editor of The Chadds Ford Post. In April 2009 he became managing editor of ChaddsFordLive. He is also an award-winning photographer.
Comments
comments